Holidays are that time of the year when people all over the globe are busy with their families, shop like crazy and are relaxed from work. It is also that time of the year when major sales and business transactions take place. Christmas, New Year, Easter, Black Friday, Cyber Monday are some of the occasions to name a few. Statistics have also shown that businesses make major profits during this time of the year than the other months put together. Using some psychological hacks, one can further boost up their business at this time. People tend to be in a calming mood, their stress levels are at the lowest and happiness is at its peak. Adding to that comes the social norm. Although many people don't like to purchase anything for themselves, they wish to celebrate by sending or exchanging gifts. All these create a euphoric atmosphere which businesses exploit to cash in. That being said, there is a cut throat competition and fierce dogfight among consumers and retailers. Consumers want to snatch away merchandise for the cheapest price possible. Retailers on the other hand want to make quick bucks in the shortest time possible. It is a win-win situation for both the parties. But the question that arises is, how to stand out from the crowd and attract attention among the vast ocean of challengers? Enterprises can make use of email signatures with attractive banners and visuals to market their product. Email creates a greater impact and reaches out to a wider audience. Also, make sure to start using holiday signatures one or two weeks before, so that everyone gets to know well in advance. In this article, let us look at some of the tips to design your perfect holiday email signature for Office 365.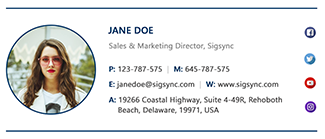 Email Signature Management
Sigsync
Email Signature manager for Office 365
is a cloud-based software that lets you create and centrally managed email signatures and disclaimers for all users in your Office 365 (Microsoft 365) organization.
Christmas: This is one holiday season which needs no explanation as it is so popular in the entire world. A product sold during Christmas needs no advertisement. There is a lot of a hustle and bustle in the shopping centres and even online. We experience such a heavenly feeling in the month of December that it is hard to put it in words. For Christmas, you need to design your signature using white, red or green colors. White is the color of the snow, green for the Christmas tree and red is the color of Santa's outfit. Don't make the signature too flashy or with bright colors. It usually takes away the focus. Do wish your customers a wonderful and a happy holiday season. Positive wishes tend to brighten up the mood.

New Year: It is that time of the year when people forget the past and welcome the new. With the motto of forgive and forget, we close the old chapters and tread a fresh path sliding into the New Year. It is truly an occasion of joy, celebrations and emotions. There is absolutely no wonder, why there is a glittering magical aura during this time of the year. There is even a New Year sales in almost every business. You can design your New Year email signature using firecracker banners with a subtle night background. Fireworks going up high in the sky is also one of the noteworthy elements you can include.

Halloween: Halloween is a typically a petrifying season and mostly uses orange and yellow hues. It usually occurs during autumn in most of the northern countries. An image of a black castle with a golden pumpkin makes it a perfect eye-catcher if you are looking for good deals during this eerie season. Spookify your social media icons and give a nice orange-brown touch to the overall layout.

Birthday Party and Jubilees: Well, in a big organization there is a birthday to celebrate every second day. Including an email signature for every employee's birthday doesn't serve much purpose. But what if your organization itself is celebrating its birthday or some anniversary. It definitely makes the date a special one and even more important to make other employees know about the success stories it has been a part of till date. For a birthday signature, you can preferably use a light background with balloon banner indicating the event, webinar or even grand discounts you have to offer on this memorable occasion.

Black Friday Sale: Black Friday is the day after Thanksgiving and is usually the start of the shopping season in the USA. Business make the most of this season as the products are sold like hot cakes in a minute. There is such a mad rush for this season, that people wait the entire year round to grab the exciting deals all for themselves. You must be living under a rock if you do not make use of email signatures for Black Friday Sales. Retailers report some of the highest profits during these sales period.

Easter: Easter is synonymous with the arrival of the spring. After a period of long winter, nature is awake from a deep sleep. Growth and abundance is seen everywhere. It is also that time of the year when discounts are offered and deals are done. You can design your Easter signature with daffodils, Easter eggs, birds and call of the spring. Make sure to use hues of green and blues to make it stand out. Keep the call to action clear and be specific if you are planning to offer good discounts.

Valentine's day: This is the season of love-birds and romance. Love is all around in the air and its also the time where there's abundance of the color red. Businesses sell specific merchandise during this time like chocolates, heart cushions, greeting cards, flower bouquets, red roses, apparels, jewellery and gift articles. It is a special occasion for newly weds, couples etc. Targeting these specific consumers with an eye catching signature is also a must if you are planning to boost up the sales during the valentine period.

Creating specific email signatures for different seasons is an intelligent method to personalize your signature and connect with your customers the right way. Sprinkle some festive magic in your emails and let them come to life. If you are looking for a stress-free way to create centralized, company-wide and professionally looking Office 365 e-mail signatures, then you have it all in one place.

Sigsync is a cloud based Office 365 signature service with variety of customized templates to choose from and maintains your corporate identity across the entire organization in a single place. What's more, it offers a free trial to test all the features to your heart's content. Our 24/7 customer support will be more than happy to lend you a helping hand. More information about this excellent signature service can be found https://www.sigsync.com