In everyday basis, your organization may send large amount of emails externally and this opportunity can be used to market yourself or your business in every email you send. Email signatures are great opportunity to help them know who you are, about your organization or brand and make it easy for people to reach you. Let's understand the importance of an Email signature in email:
Perfect platform for branding:
As company sends N number of mails on daily basis, you can make use of this opportunity by adding email signature to every mail you send externally. You can share latest news about your product and increase the engagement with users. By using email signature in every email, you will have the opportunity to let people know where you stand in the market.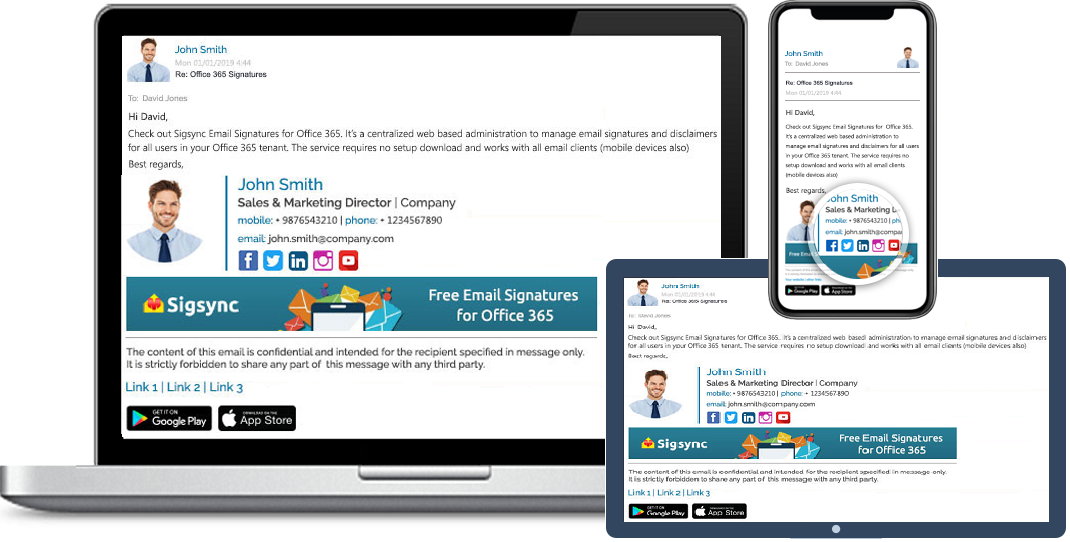 Free Office 365 Email Signature
Free Office 365 Email Signature
s manager allows you to centrally manage email signatures.Consistently deliver your brand-compliant Office 365 Email signatures company-wide.
Professionalism and legitimacy:
Your email will represent your company, when you send an email to someone who is not part of your organization. Creation of email signatures which includes your brand logo and your contact details will help you to look genuine. You can easily establish your brand among your users this way.
Legal disclaimers and protection:
Legal disclaimer is a level of legal protection added to an outgoing email with the intention of limiting your liability. The disclaimer will be placed at the bottom of the email signature and it consists of elements like copyright, trade mark notice or may be confidentiality of the email in every mail you send.
Increases interaction between the customers:
Adding the contact details and important links makes it easy for prospects to get the information that matters most for them. Information and important links can be modified according to the target audience. Also, sharing the social media pages or links can increase the number of followers and activity of your page.
If you are planning to have an effective email signature for your organization, you can check out the Sigsync Email signature service which is a cloud-based server-side service, processes the emails and adds signature dynamically and it also provides signature generator with many readily available templates that you can use or create new signature from scratch.