Email signature is very important as its one of the most flexible marketing tools. Email signature is very essential for promoting brand in a very sophisticated way. As company brand represents about who you are and where you stand in the industry.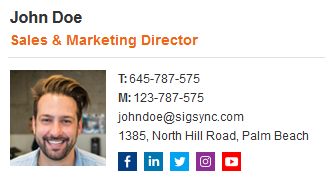 Free Email Signature generator
Free online HTML
Email Signature Generator
that helps to create professional and visually compelling email signatures by adding your logo, brand colors, contact details and etc.,
Let's understand the tips which helps you to create perfect email signature:
Give importance for adding important information like name, contact details, job title, company name including website URL etc., you can also add brand logo and social media icons which ensures to get attention of your recipients and they may take your emails seriously.
Keep your Email signature color simple and effective. It helps you to stand out from all the other emails and always choose your emails signature color wisely.
Your email signature should not exceed more than 5 to 6 lines otherwise it looks messy and jumbled.
Add appropriate call to action and to help your recipients as to what they can do next after opening your email. The call to action should be simple, up to date and pleasant.
Select font which can change complete look and feel of your email signature. Never use multi-fonts in the signature.
Before using the email signature, you need test and make sure whether your email signature works fine in all the email clients.
The signature looks clean and professional when it has consistent spacing. Even in a quick glance recipients should be easily able to spot the information.
Try to reduce the information by adding grammar like colons to divide the text on the same line.
Don't over complicate your email signature design. Simple design is easier to handle and will also have the great chance of being consistent on all the email clients.
By keeping above explained tips you can easily create really great looking compatible and straight forward email signature.