Email signature is an effective marketing strategy and in many different ways you can improve your product promotion activities. Your email signature should be utilized in an indirect and skillful approach since maintaining the content relevance is very important. Here are some tips on how the email signature can help in marketing: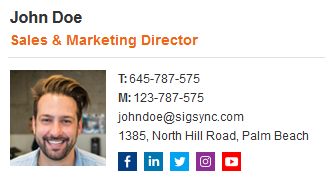 Free Email Signature generator
Free online HTML
Email Signature Generator
that helps to create professional and visually compelling email signatures by adding your logo, brand colors, contact details and etc.,
Email signature should include the website link which helps the recipients to easily access your site and know more about your products in just one click. You can generate traffic by directing users to your website.
Make sure that your brand looks professional and comply with the guidelines which helps to nurture trust among your users.
Add social media links in your email signature to build different types of connection between your customers and reach more userbase.
You can even add industry awards and other company certifications.
Instead of just linking homepage its always better to redirect them to the download page. For even more exposure you can add the links to your signature.
You can create awareness of your product by placing different promotional banners in the email signature which supports marketing campaigns.
The most common way to generate business leads is by offering special deals.
Frequently contact your users/subscribers about your recent products and special offers.
An effective email signature should enforce potential customers to visit your page or place an order by placing a strong call to action.