For many people, business email is the most preferred mode of communication and official medium. Because, it is direct, convenient and perfect for communication. Email Marketing has lots of advantages. If used properly it can leverage sales, generate new users and helps in retention. Many organizations still use email marketing and it's their important part of success strategy. Let's understand the important features of email marketing which applies for all types of businesses.
Easiest way to reach mobile users:
Easiest way to reach the consumers on their mobiles without investing on any new technologies and it gives high value to the business as its platform independent. Also, email is free of cost for the consumer and it will have more space for content than compared to text messages which helps for better marketing.
Cost-effective:
Email marketing is inexpensive, simple and effective which helps to reach the large number of audiences with composing email just once which saves lot of time. When compared to traditional marketing strategies, direct email marketing campaigns are more effective. Importantly, it requires correct maintenance of email list and builds trusted relationship with the recipient, the cost benefit increases as does the Return on Investment (ROI). Therefore, at a lower cost you can get a more positive response very quickly.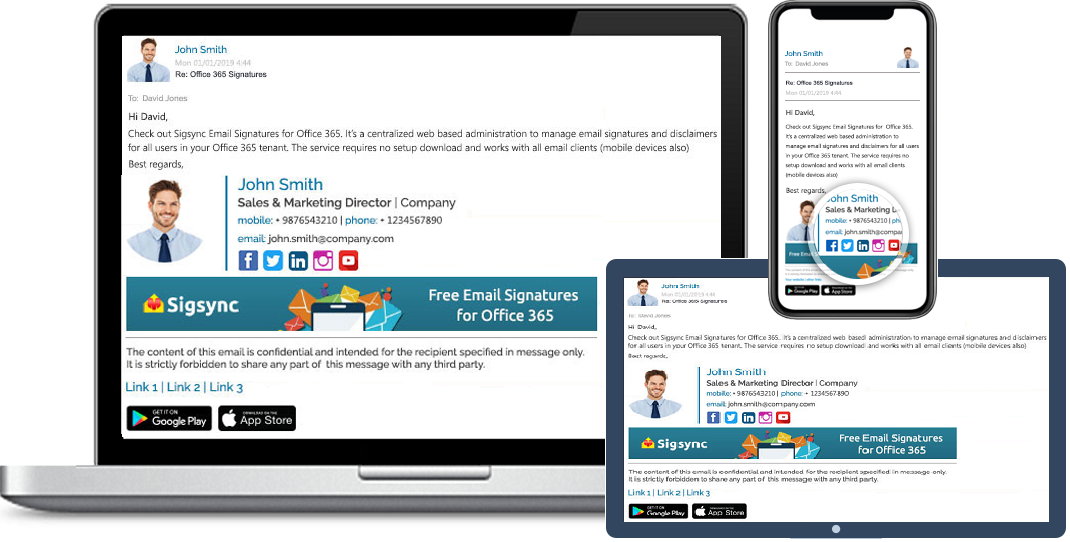 Free Office 365 Email Signature
Free Office 365 Email Signature
s manager allows you to centrally manage email signatures.Consistently deliver your brand-compliant Office 365 Email signatures company-wide.
Increased Measurability:
Email marketing campaigns can use analytical and tracking tools which allows you to verify who opened your email and which links have been opened. You can also know your ideal customer by collecting large set of demographic information which helps in your future campaigns. Instead of being marked as spam, you can use feature called unsubscribe which helps the users who wish to be removed from your list.
Personalization and Segmentation:
In Email Marketing, it gives the privilege to personalize emails in order to specifically target your intended audience. You can also customize the emails based on certain demographic area to reflect their interest. This approach helps you to concentrate on niche market and make the campaign more effective by performing instant and relevant changes to that market.
Stay Connected to customers:
Through Email marketing, you can stay connected with your customers by sharing latest information about your products or services. Also, your customers can forward those emails to their friends or can view more information about your product or services, visit products websites and blogs etc.