Email Marketing is one of the best ways to promote your brand by reaching out the customers and potential leads and in these days its easier communicate with the users within a click. Let's understand benefits of planning the email marketing strategy for your business.
Targeted and Customized content:
Email Marketing allows you to partition your customers into different lists which is based on their preferences to send highly customized and personalized content. Create a perfect subject line, valuable content which helps to keep your audience engaged. You can increase your return of investments by targeting only on the people who are interested in your product.
Build trusted relationship with your customers:
The best ways to maintain the loyal relationship is by communicating with your users on daily basis which can be done via email marketing. You can also encourage your loyal customers to go for a purchase of product by offering exciting discounts.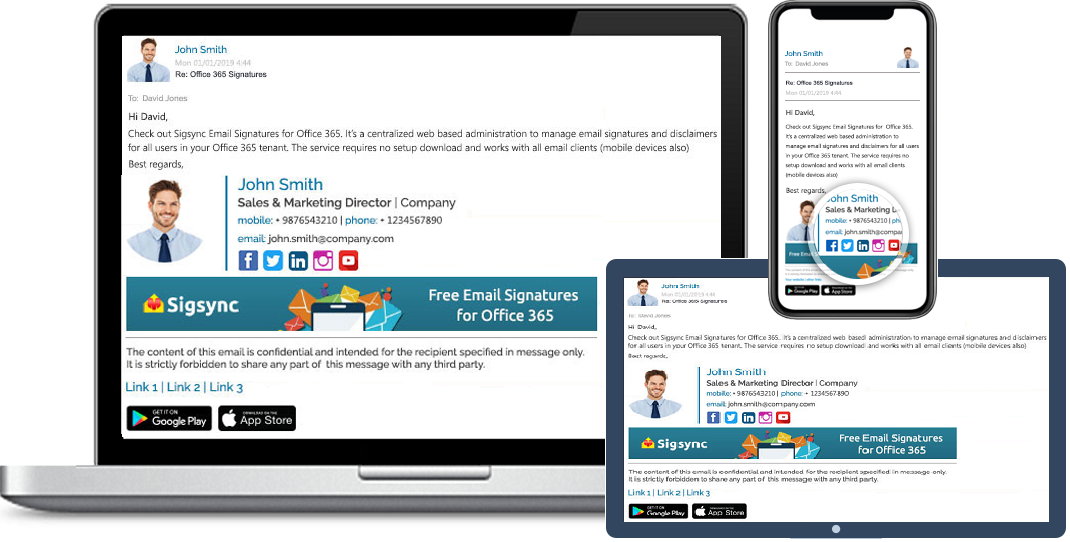 Free Office 365 Email Signature
Free Office 365 Email Signature
s manager allows you to centrally manage email signatures.Consistently deliver your brand-compliant Office 365 Email signatures company-wide.
Email is Measurable:
No guesswork required in email marketing. While using email marketing software you can track who opened your email, which links are clicked etc., It gives a detailed report about impression, click through rates of your email etc., with the help of analytics tool you can easily find out in which area your data is being accessed and the area which is not explored. This makes you to take informed decisions about your marketing strategies.
Email with Visuals:
Emails is not just about text. Effective marketing emails includes branded headers, footers, videos, images, call to action buttons etc., These attractive elements help to engage the users with your organization.
Brand recognition:
Every content which you create for your users is an opportunity to know better about your brand. Users are more likely to engage with the content as they are more familiar with it. You can also use the emails to show them your expertise, your brand values etc.,
Increases website traffic:
Email marketing is the perfect way to get users to your website by including relevant links to your website in your content. Including your social media links in your emails encourages your users to share the content in social media and more users visit your website which increases website traffic.
Increases sales:
Email Marketing helps you to build relationship with your leads which converts it to sales. Email gives you the opportunity to capture new visitor's attention and helps to build the relationship with the descriptive content.