In this modern technology laden world where e-mail communication is ubiquitous in large organizations and business environments, using an e-mail signature makes it very essential for a company to make its brand stand out. Although an e-mail signature might seem redundant to the majority of folks, it can convey a much wider connotation. In this article we will let you know why you should start using an e-mail signature right away.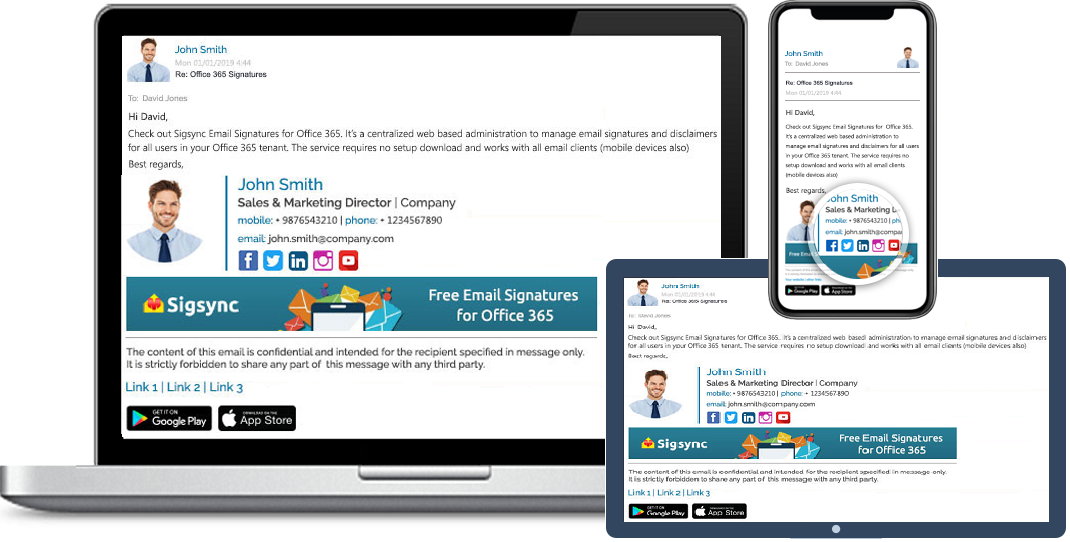 Free Office 365 Email Signature
Free Office 365 Email Signature
s manager allows you to centrally manage email signatures.Consistently deliver your brand-compliant Office 365 Email signatures company-wide.
Reasons for using an Email signature
The text and graphic visuals in a signature makes an e-mail eye-catcher. The lovely visuals appeal to the audience almost immediately.
It provides a handy reference of contact details like addresses, phone numbers and social media links. It can be called as a digital business card.
A valid and legitimate address helps in legal compliance.
An organization can generate leads, promote their content and boost site traffic. Product promotion can increase the sales to a large extent.
Creating a signature for each employee maintains brand recognition.
Specially helpful for entrepreneurs, specialists, and businessmen looking for mass mail correspondence.
Specially helpful for entrepreneurs, specialists, and businessmen looking for mass mail correspondence.
A classy signature functions as marketing booster for a company's product.
Web-based & centrally managed signature gives control to a single user. Lets say the marketing team needs to work on the design. Presto! They have the control to do exactly that.
One-click surveys and analytics in the signature can track customer feedback and engage the audience.
Adding a disclaimer in the signature, protects the business from legal actions.
Common problems while setting up an email signature
Manual creation of a signature demands lots of effort, time and technical expertise. Some services need HTML knowledge.
Manual updation of the signature by each user disturbs the consistency in the design and exposes the system to unnecessary risks.
There can be format issues with respect to displaying images and with different devices like a smartphone. A format supported on mobile may not be displayed accurately on a desktop PC.
Difficult to create a company wide signature which is supported on all devices.
Prior testing and previewing of email signatures may not be possible.
Sigsync-A Cloud based E-mail Signature creator
Sigsync is an Office 365 cloud based, centralized Microsoft approved and ISO 27001:2103 certified E-mail signature creator. It helps in creating a company wide e-mail signature conveniently at one place using the dashboard tab. One can also create customized and standardized E-mail signature templates with company branding, social media icons, logos and photos. Configuration via connectors is automatic and straight forward. The signatures can be previewed instantly.
Creating a fast and quick signature should not demand much time. Sigsync configured with Office 365 effortlessly creates professional looking e-mail signatures which can be readily used across the entire company. Surprisingly it also works on all devices including a PC, Mac and mobile phones and eliminates the hassle of complex installations. More information on Sigsync Signature Generator can be found by visiting https://www.sigsync.com/kb/how-to-set-rules.html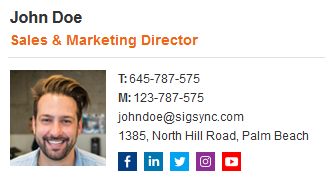 Free Email Signature generator
Free online HTML
Email Signature Generator
that helps to create professional and visually compelling email signatures by adding your logo, brand colors, contact details and etc.,
Visit website: https://www.sigsync.com
Video: https://www.sigsync.com/kb/video.html
User Manual: https://www.sigsync.com/kb/sigsync-user-manual.html