Before the advent of computers, business communications used to take place face to face. People had to journey far and wide to strike those precious deals and win important projects for their company. Identities of merchants used to be known either through conversations or negotiations with envoys. Later paper based business cards came into existence. It was considered a usual norm for people to exchange their portfolios in the form of these handy templates. The digital revolution brought about a fresh form of interaction in the form of emails. In this form of communication, there is very less possibility for two people to view each other in person. But for businesses, email signatures have alleviated this burden by introducing image embedding into emails which enables the receiver to make a mental identity of the sender. When this email is sent in masses, it makes sense to keep the email signature as appealing as possible to the recipients. But with so many services to choose from, a trial version can assist you in narrowing down the available resources. In this article, we will let you know how a trial version helps you decide the best email signature service for your business needs.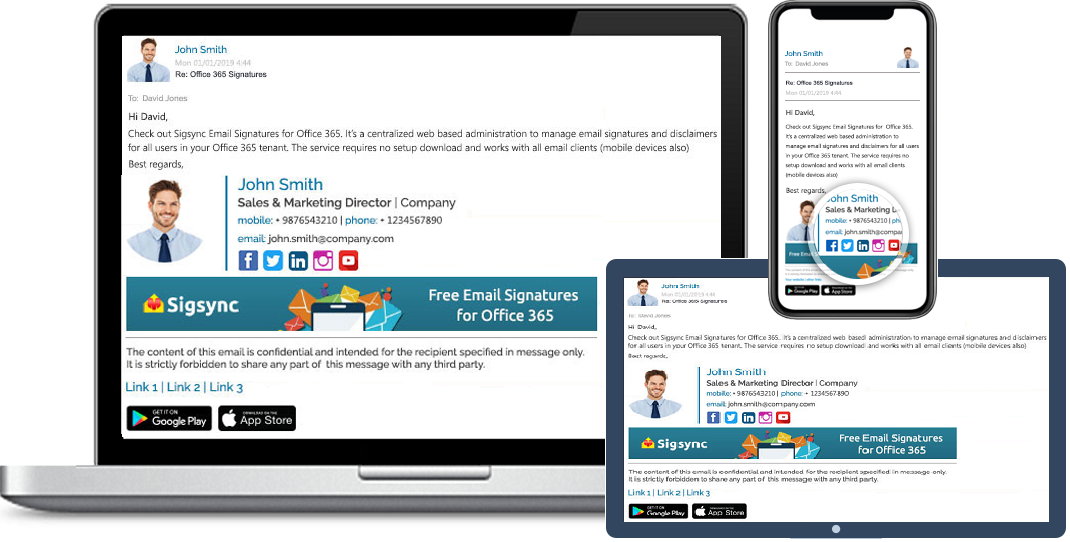 Free Office 365 Email Signature
Free Office 365 Email Signature
s manager allows you to centrally manage email signatures.Consistently deliver your brand-compliant Office 365 Email signatures company-wide.
Advantages of using a trial version for an email signature
You can test the product beforehand. There might be multiple requirements of a company. For example offering discounts, maintaining consistent design to setting up without much technical know-hows. The trial version offers testing everything before matching one's design choices. Sigsync email signature lets you to centrally manage email signatures and disclaimers for all users in your Office 365 (Microsoft 365) tenant.
Helps you get to know the customer service better. What is worse than getting to know of a poor customer service after settling for a service. A feature which might seem so simple initially might turn out to be an unwelcome surprise during a cash-rich business negotiation later. Trying out the product in the trial days and contacting the customer service with questions makes one aware of the response and support they provide. Some even have the facility to extend their trial period for a while after it expires and some other have a hard deadline. Showing interest in the product is the key in winning those exquisite deals and bonuses. Contact Sigsync email signature service for additional discount deals.
Seeing the features in action. Email signatures can update contact details, email addresses or attach images. These are rather run-of the mill of every signature service. But advanced features like analytics and one-click surveys which drive traffic to your websites can only be seen in action when they are actually put to use in real time. No doubt that there are a hundreds of them mentioned on the homepage. But have you tested them all to exploit their full functionality? A competitor might have hidden gems in their service. Its therefore advisable to spend some quality time fiddling around with those features before making a wise decision.
It is all at your convenience. Of course, trial versions come with their own time limits. But that doesn't mean users have very limited time to explore at their will. With a little bit of internet searching, browsing through customer reviews and using product comparison blogs one can have ready-made information at their disposal. Contacting the customer care for a free personalized demo is also another clever approach. At Sigsync we offer a live personalized demo for all your signature needs.
Compare and contrast. Let us admit that we can't have the cake and eat it too. Every service has certain features to offer which may sadly be absent in the others. Having everything in a single place is practically close to impossible. It makes sense therefore to weigh the pros and cons from all angles according to the requirement and target for the balanced one. Just because an email signature service has a brand name in the market and everyone goes for it does not mean it has to be the perfect decision.
Conclusion: A demo version of a service brings the product closer to the customers in making an informed decision. It makes sense to play around as much as possible to get to know the features that suit your business needs.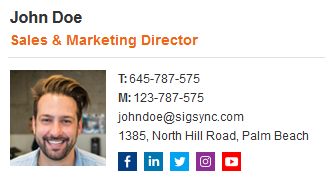 Free Email Signature generator
Free online HTML
Email Signature Generator
that helps to create professional and visually compelling email signatures by adding your logo, brand colors, contact details and etc.,
More information on how to create professional company wide email signatures can be found by visiting: https://www.sigsync.com
Video: https://www.sigsync.com/kb/video.html
User Manual: https://www.sigsync.com/kb/sigsync-user-manual.html