For organizations using Office 365 applications for businesses, a common question usually crops up as to why a central management of email signature is needed. When left to the employees themselves, self-management of email signature may leads to inconsistent design, improper usage of colors, lacking effective utilization of signature components and branding. For example, the disclaimer part contains some legal terms appended for the protection of the company. Individuals can alter the text altogether knowingly or unknowingly, which might cause the company to land in hot soup.
Contrastingly, implementation of central management ensures a consistent, professionally branded email signature for every email. It controls the signature of all employees at one place and gives peace of mind without having to check each and every signature that is sent.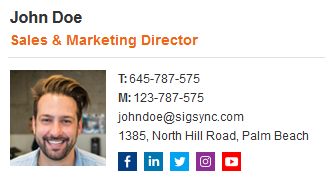 Free Email Signature generator
Free online HTML
Email Signature Generator
that helps to create professional and visually compelling email signatures by adding your logo, brand colors, contact details and etc.,
Why Email signatures need to be centrally managed?
With the native Office 365 solution, Email signature creation turns out to be ponderous as it demands scripts to be written, setting complex transport rules, technical know-how involving IT administrators, good knowledge of HTML etc. All these make the entire process a time consuming affair, without any assurance on the timely updates. There is also no guarantee that signatures show compatibility over various emails clients and devices. An e-mail signature that looks stunning on your desktop browser might be misaligned or look totally distorted on a smartphone.
The best approach against all these uncertainties is to centralize the Email signature management. Centralization using a third-party solution makes signature management easy for each employee across the company without messing up the designs or having to know advanced HTML coding. Here are 6 advantages to start doing it right away!
Easy signature deployment for all the employees across the company

It is essential to have a corporate and a professional email signature appended into your business emails. That's actually a good decision. But what about your colleagues? It is undoubtedly not effective if all employees design email signatures individually. With centralization, Email signature can be deployed to all employees of a company in a systematic way. Only the admin can manage all users' email signatures at one place.

Turn Office 365 into one stop communication solution

With a centralized management, the email signature generator opens up a variety of opportunities in designing creative email signature for all the employees.

You can link and promote your website, social media accounts. This will gradually increase your follower count. Also it makes the generated email signature consistent, professional across all the devices and email clients.

Ensures brand recognition and adds credibility

Every email is a great opportunity to showcase an individual as well as brand. The centralization of signature management controls people from adding bulky images, fancy and flashy colors, unprofessional quotes, funny emojis, or including inappropriate content in the signature, thus ensuring brand recognition and credibility.

A branded signature is a sign of trust with which the recipient recognizes and connects to your product.

Serves as an effective marketing campaigner

Email signatures play a prominent role in marketing strategy. They add values and improve the business outcome. It is easy to implement different sales goals and helps in lead generation, promoting events, increasing page visits, supporting effective social media engagement and much more.

It supports multiple signatures for different audiences based on the rules. Append different signatures for different products or campaigns or based on keywords for different countries using multiple signature rules. For example a campaign for an upcoming webinar can be included in the e-mail signatures of only selected people like the marketing team using signature rules.

Set the specific signatures as per the role

Based on the roles, you can set different signatures. For an instance, you can setup corporate signature for managers, add banners in the signature for sales department to promote the products.

On the fly updates which are rolled out instantly

With internet based work increasing day by day, portability is highly desired in business units. Centralized management guarantees immediate benefits to users as well as the company. With few simple clicks, signatures can be setup for everyone straight away. It is such a stress free activity! For example, disclaimers added centrally, are reflected within minutes for all employees within an organization.
How email signatures can be centrally managed?
Email Signatures can be monitored manually through the Office 365 admin center. This approach is quite challenging as it demands setting up of complex transport rules. It also restricts signature creation, for example modifying HTML code, adding photos etc. The simplest way to handle this is to utilize a dedicated email signature tool. This avoids running complex commands for the signature generation.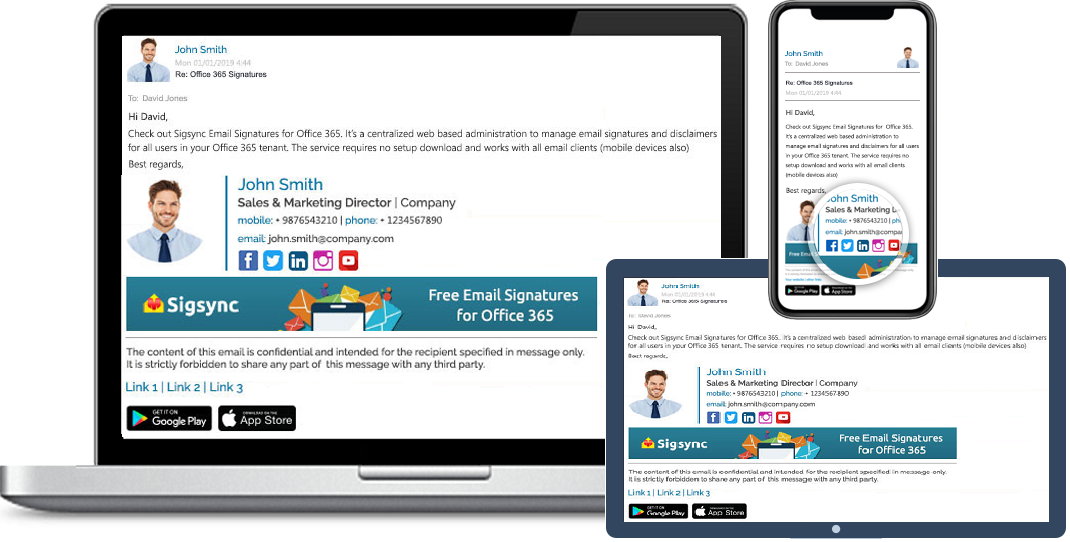 Free Office 365 Email Signature
Free Office 365 Email Signature
s manager allows you to centrally manage email signatures.Consistently deliver your brand-compliant Office 365 Email signatures company-wide.
Why to choose email signature service?
A dedicated third party email signature service saves the users from executing the complex transport rules and offers an easy-to-use environment to create and control email signatures for all the employees. An admin has full authority over the employee's signature updates.
Following a dedicated email signature service saves much of the precious time and money.
Sigsync : A centralized email signature management solution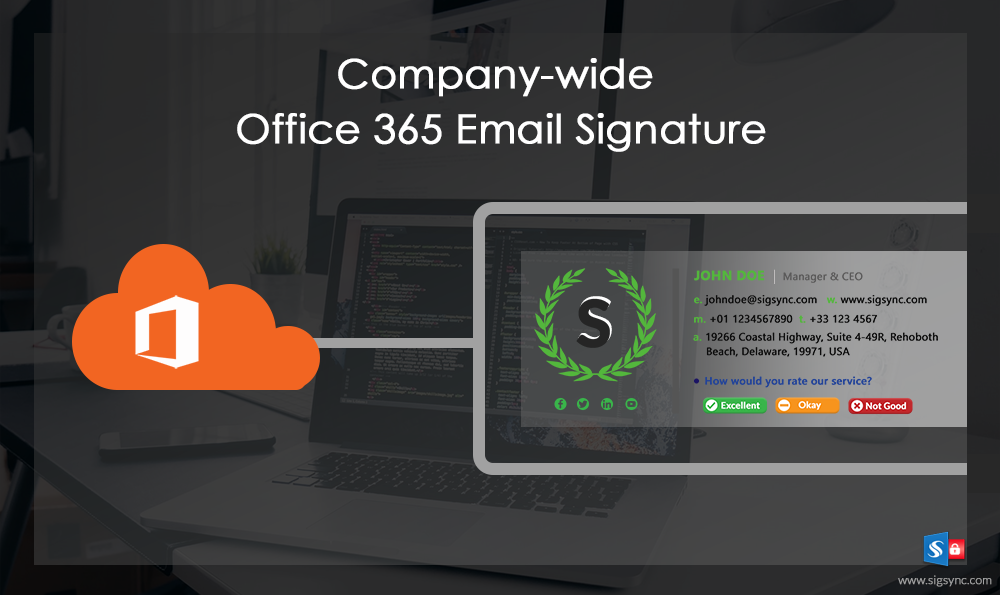 Sigsync is a centralized, web based email signature that adds signatures for all the employees across the company. No matter from which device you want to access emails, it supports consistent signature across all the devices (Windows, Mac, Linux, Mobile etc.) and email clients.
To avail the best features for your Email signature creation, visit: https://www.sigsync.com