Widening the business outreach for organizations is now possible through various means and one such unparalleled medium is a social media channel. Many enterprises shy away from these networking platforms citing privacy concerns to protect their data. Some other enterprises care less and rake in the moolah by joining the social media bandwagon. Although this might seem like a pot of gold at the end of a rainbow, one must not lose heart. If you can't beat 'em, join 'em is the golden mantra to be followed here. If others are cashing in using these social tools, why can't you? To set the cash registers ringing, you need to first understand the power of social media marketing. An entrepreneur can go from rags to riches by making use of these services in a correct manner. Every email is a potential source to increase your social reach. Social media icons included in an email signature silently drives marketing of your brand without going those extra miles. An email journeys all around the globe and it targets a wider audience than your company's website hosted in a remote corner of the world. In this article, we shall look at some of the guidelines to follow in order to achieve the highly craved social media fan-base by using an email signature.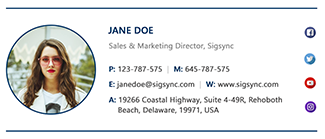 Email Signature Management
Sigsync
Email Signature manager for Office 365
is a cloud-based software that lets you create and centrally managed email signatures and disclaimers for all users in your Office 365 (Microsoft 365) organization.
Too much icons take away the focus. This is rather the very first step when adding social media icons in an email signature. Add only the ones in which you are actively engaged in and cut down the rest. Time is a big constraint for every potential customer and it becomes impossible for them to follow everyone everywhere. For example, if you regularly publish videos on your Youtube channel, it makes sense to include this rather than a blog site where you hardly have any activity. Be choosy and target those channels which you feel can give your business a significant push.

No activity equals no audience. Linking and sprinkling those colorful icons on your email signature looks neat. But what sense does it make if your social media sites are as dead as a doornail? Trending posts sell like hotcakes and make quick bucks in this competitive world. It is the need of the hour to be on the tip of your toes and continuously engage the media hungry audience with interactive posts and feed them with the right information. Only then a steady rise of faithful followers can be seen.

Separate the wheat from the chaff. Personalize your email signatures by including the relevant social media links. You become an object of ridicule if you don't keep your personal and professional lives separate. No doubt you might be a skilled hobby artist, but linking your personal social sites in your professional signature is strictly forbidden. Some email signature services have the provision to include different links to your personal and professional signatures. This is actually a cool feature to circumvent the above issue.

There's no single magic wand for everything. Copy pasting the same email signature to all your contacts or clients may seem like a smart hack but is rather utterly foolish. For example, some organizations might be active on LinkedIn, but not on Facebook. It is a clever idea to do some little research about the recipients to whom you send the mail. Tailor-made signatures with the relevant profiles work far better than just flooding them with multiple copies.

Call-to-action and interactive banners cannot be left out in the cold. Interactive banners and adding brand colors make the signature much more appealing and increases click-rate. A recent product launch or new feature updates are some of the elements in your social feed which grab the eyeballs. It is basic human psychology of breaking into panic when some important information is missed out from our lives. Exploit this in your signatures by crafting creative words such as 'Don't miss the latest update' or 'See the brand new features released' and so on. Social media networks indeed cut the corners to advertise your product and can be rightly called as self-marketing tools.

Last but not the least. We have to understand the fact that marketing is not only about sending mails, designing mind-blowing signatures, using catchy titles etc. It is all about Social Media Marketing. Some enterprises often don't use email communication. In that case you have to somehow make them hook to your social media channels by initially sending them a cold mail or use your signatures in one of their discussion forums and so on.
Using the appropriate social media links in your email signature and maintaining them can seem laborious. But thanks to Signsync Office 365 email signature, adding and managing centralized signatures has never been so easy.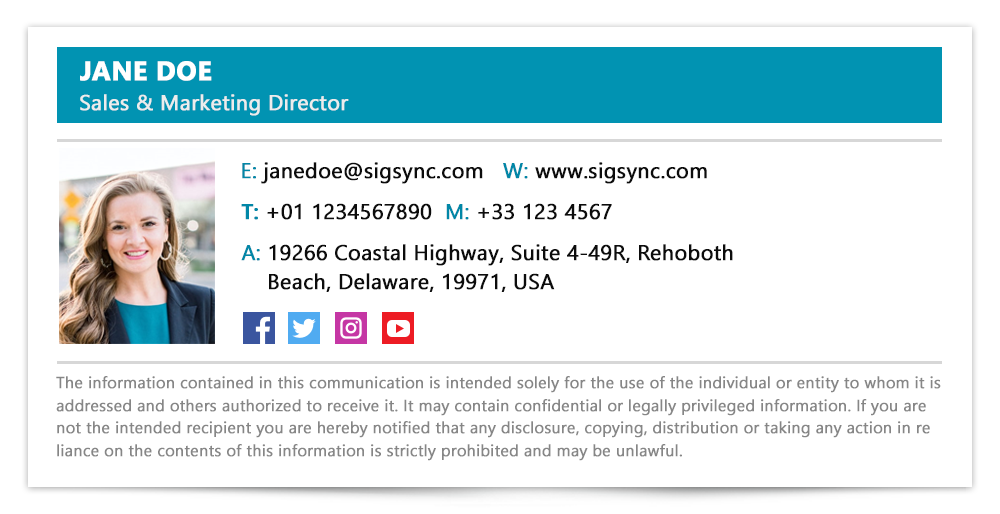 Sigsync is a cloud based Office 365 signature service with variety of customized templates to choose from and maintains your corporate identity across the entire organization in a single place. You can easily add interactive social media channels with the click of a button. What's more, it offers a free trial to test all the features to your heart's content. Our 24/7 customer support will be more than happy to lend you a helping hand.
More information about this excellent signature service can be found visiting https://www.sigsync.com