Email marketing has become the latest talk of the town with the boom in digital media. People have the habit of checking the latest news, videos, and even e-mails through their smartphones. Mobiles phones are mini computers which have revolutionized the way we communicate with others. They are practical, handy, and easy to check the latest gossip happening around us. With a huge consumer base and potential marketing opportunities, businesses are trying to exploit this opportunity come hell or high water. Merely marketing using an e-mail signature banner and claiming that a product is the best does not help us climb the corporate ladder. Companies rack their brains to find the best possible subject lines, use polished sentences etc. But grammar and well crafted phrases alone doesn't lead us anywhere. Humans are social creatures which make them follow a pattern. Studying the human mind and adopting certain psychological hacks in our business can benefit us to stay ahead of the pack and bring us one step closer to success. E-mails have to be opened in the first place before the receiver finally gets to your e-mail signature. In this article let us look at some of the tricks which can make your marketing e-mail hit the nail on the head.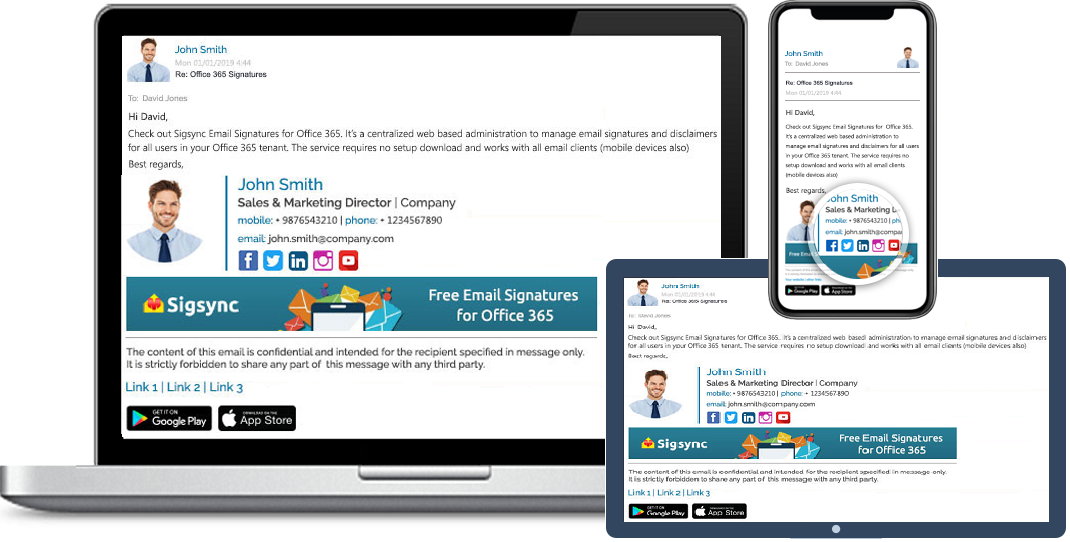 Free Office 365 Email Signature
Free Office 365 Email Signature
s manager allows you to centrally manage email signatures.Consistently deliver your brand-compliant Office 365 Email signatures company-wide.
Psychological hacks to make your e-mail signature a success
Craft a clever subject-line. Ok. This might seem like an ordinary element which almost every blog has an article written about it. But wait! Have you stopped for a second and pondered, how a simple subject line can make a difference? That is exactly the strip which the recipient first scans in your E-mail. Considering this, sprinkle some points discussed below in your subject line to grab the attention. Instead of writing 'Purchase this today'!, you can re-write the same content by telling "A practical tool to share all your business files securely" or similar in the subject line for example.
Bring in positivity in your E-mails. An e-mail written in a neutral style easily gets drowned in an ocean of overflowing mailboxes. Positive words like good health, joy, happiness in the content induces positivity and lightens up dull moments. You can also wish your customer good health, prosperity and well being or include an image of people laughing, cheering up, a success trophy etc.
Talk in the language of colors.Colors add beauty to our lives. They recharge our batteries and makes us fresh and energetic. But it must be noted that not all colors are pleasant. Bright, flashy and florescent ones are painful on the eyes. Take some time to research on the colors to see which suits the best. Matching colors and templates also go along well with each other. For example an orange tie in the profile photo with an orange banner in the e-mail signature complements each other. Let us look at some of the colors and the effect they have on human minds.

Red signifies something is urgent or conveys a sense of emergency. This can be used for discounts, sales that are about to end or even important deadlines and reminders.
Blue builds trust, has a calming and relaxing effect on the eye. It is one of the most favorite colors. A blue-green combination or sapphire color works out best if you are looking to design backgrounds.
A vanilla colored background with dark-brown text also is an ideal choice if you desire to draw attention.
Yellow works for sales and shopping offers. Most of us are used to seeing yellow placards in front of big shopping malls.
Green is used to denote that something is right. It is also the color of progress.

Get down to shapes and sizes. Boxes with rectangular shapes are by far the best choice to go for. But rectangles with rounded corners can also be utilized. Keep in mind not to make any designs overly oval or stretched. This makes them look bulged and the entire dimension is lost.
Too much is too bad. Having too much of information can make users dizzy. Our minds can only process little in a limited time. Unwanted infos and leads can divert attention away from the actual content. Keep headings simple. Make the call-for-action clear. If a user wants to purchase your product, keep the buy button in sight. In the same way, if a recipient wishes to un-subscribe your e-mail, respect his privacy by including an 'Unsubscribe Link' at the bottom.
A penny saved is a penny earned. The proverb is pretty much self explanatory. Financial difficulties can knock on a person's door if they do not follow prudent practices to manage their expenses. The word 'Saving money' has therefore a positive effect on the human brain. Rather than including prices of a product in bold letters, you can include how much money a customer will save if he purchases the product in bulk or when ordered during a discount period.
Use digits and numbers in your signature. It is easier to remember things when seen as a list rather than lengthy paragraphs. Captions like 5 things to know, 6 reasons to consider can help recipients get the message quickly. Include bullet points in your signature and caption it accordingly.
Now or Never. The word 'Now' has a persuasive effect. As kids, we have encountered situations where persistent mothers ask their children to clean up their bedroom ordering that it needs to be done 'right now'. And Voilà! It has such a magical effect that the child tends to obey it faithfully like a servant does to his master. One can incorporate this in the e-mail signature pointing out that if something is not done 'Now', it might be a cause for repentance later.
Want to create a secure, centralized, professional company wide e-mail signature for your needs? Then check out Sigsync. https://www.sigsync.com. Its 24/7 customer support can assist you in creating a tailor-made signature for you. Contact us right away!.
Conclusion: Psychological tricks can only work if they are tested and experimented with. Be ahead of the curve by adopting psychological elements in your e-mail signature. See what works best for the customers in your niche and read between the lines when you interact with them.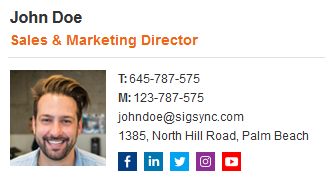 Free Email Signature generator
Free online HTML
Email Signature Generator
that helps to create professional and visually compelling email signatures by adding your logo, brand colors, contact details and etc.,
Video: https://www.sigsync.com/kb/video.html
User Manual: https://www.sigsync.com/kb/sigsync-user-manual.html