Creation of a company-wide Office 365 email signature with the native solution is a tedious one due to its various limitations. Knowledge about the of transport rules and HTML coding is necessary to create a full HTML signature using in-built Office 365 features.
The in-built Office 365 disclaimer editor is designed for plain text disclaimers and there are many limitations for designing the branded email signatures for the users in any organization.
Limitations on built-in Office 365 signatures
Email signatures can be designed for all Office 365 users within the mail flow setting of Office 365 admin portal. Rule must be set to add a disclaimer to the sender's email. If you wish to create a full HTML signature, then you have to paste it in HTML code with disclaimer text.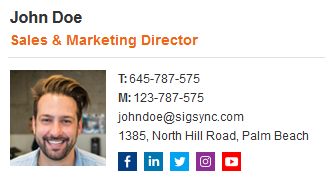 Free Email Signature generator
Free online HTML
Email Signature Generator
that helps to create professional and visually compelling email signatures by adding your logo, brand colors, contact details and etc.,
Creation of a full HTML Office 365 email signatures have few limitations as following:
Reply emails won't get email signature – only one signature is added at the end of an email.
Can't edit the signatures – Sometimes it is impossible to edit the signatures as OWA policy blocks.
You cannot verify your email signatures without deploying all users.
Can't embed images such as logos or promotional banners in the signature.
Doesn't support email signature sent from mobile, tab, or Macs.
Requires knowledge on HTML code to create an email signature.
Sent Items won't get an email signature appended.
Sigsync for Office 365 Email Signature Administration
Sigsync is a centralized web- based Office 365 email signature management solution that adds the signatures for all the users across the company. You can manage multiple email signatures for every user in your organization by setting the email signature rules.
It supports signatures sent from any device, including mobile, tablets etc. It allows all the departments to create the required email signature without demanding advanced HTML knowledge.
Adds email signatures in the emails sent from any mail client or device.
Appends the signature under the most recent reply.
Supports Automatic configuration of the connectors.
Shows preview of the signature before sending email.
Supports Automatic configuration of the connectors.
Assigns admin role to manage signatures.
Provides various pre-defined signature templates to suit your business.
Generates leads, drives more website traffic.
Helps to track and analyze the web traffic using Analytics.
Customer satisfactions can be obtained in real time using OneClick surveys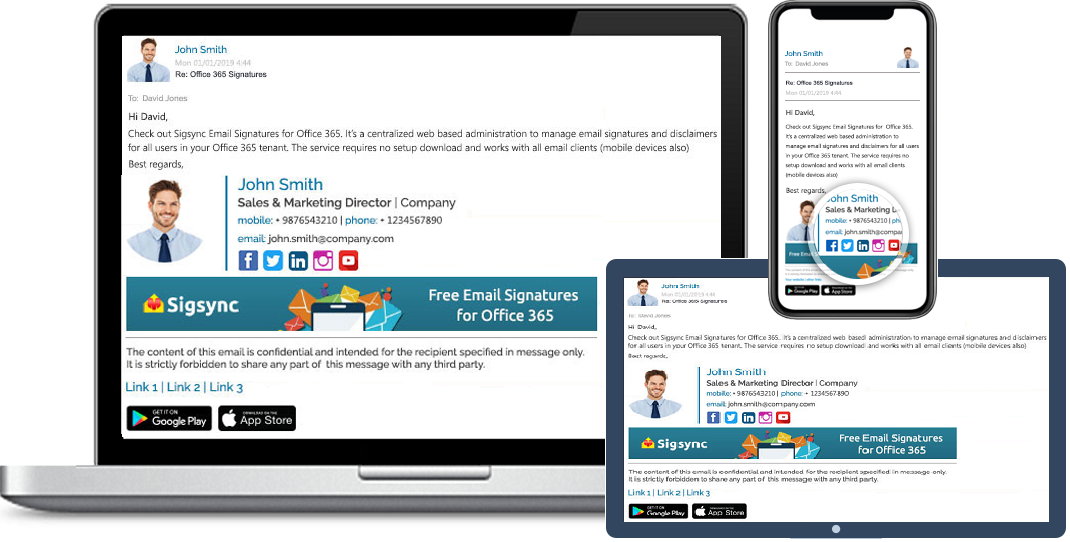 Free Office 365 Email Signature
Free Office 365 Email Signature
s manager allows you to centrally manage email signatures.Consistently deliver your brand-compliant Office 365 Email signatures company-wide.
For more details, Visit: https://www.sigsync.com
Video: https://www.sigsync.com/kb/video.html
User Manual: https://www.sigsync.com/kb/sigsync-user-manual.html