Every email you shoot creates a huge marketing opportunity. Here are some tips for maximizing the impression of email signatures to boost your Organization brand.
When every email includes a call-to-action, it obviously encourages email marketing. All emails including signatures can be a great marketing opportunity.
Suppose you are using your email signature with the details like name, company address, designation, contact details, email address, company website, etc. To create your running marketing campaigns, you can take your signature to the next level by modernizing your signature. Promote your organizational initiatives including content, upcoming events, product and more. Support colleagues to turn their email signatures into marketing promotions. It will bring more traffic to web pages.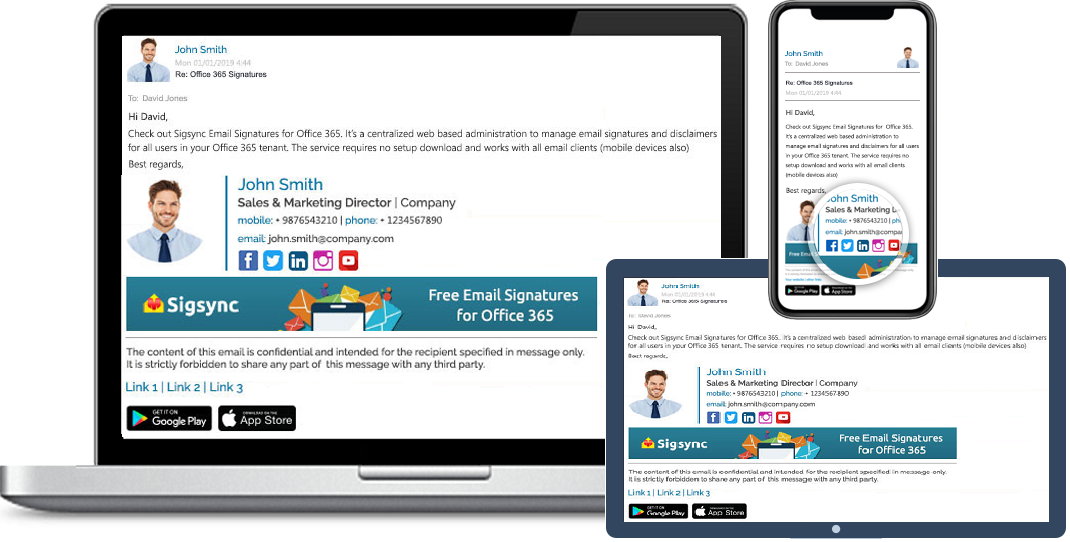 Free Office 365 Email Signature
Free Office 365 Email Signature
s manager allows you to centrally manage email signatures.Consistently deliver your brand-compliant Office 365 Email signatures company-wide.
Here are few suggestions to promote using your email signature:
Company website

You need to promote your company's website in your email signature. For this to work effectively, ensure that homepage acts like a landing page. It should draw the visitor's attention to the things you wish them to look at. The homepage should suggest about starting a free trial or downloading a demo version of the product. Adding your website's URL in your email signature helps to increase the company brand awareness.
Blog
Blog is one of the best strategies you can insert in your email signature as it gives value to the community and gets updated regularly. Posting new content on your blog helps to retain visitors on the page and increases the dwelling time. Including calls-to-action on your blog will encourage reader to move to next step .Using Sigsync, you can build a dynamic email signature that incorporates an RSS feed, which exhibits your most recent blog article's title and automatically updates as new posts get rolled out.
Social media
There are two options in front you when including social media in your email signatures. Either include a link to your personal accounts on Facebook, Instagram, Twitter, LinkedIn or include links to company's accounts.

Suppose you are looking for the personal brand and wish to reach out to people outside the company. It motivates them to get more information about your fields of interest personally. Linking corporate social media profiles helps you to raise company brand and have more followers.
Conferences and events
Are there any company trade shows planned soon? Or talks at a conference? Email signature brings it to public attention. The much hyped publicity might not significantly bring in more participants but it will inarguably help in promoting the event and raise the awareness among your target audience.
New marketing offer
Suppose you are an inbound marketer. Inbound marketing stresses on the visibility like the one shown in the image so that potential customers reach out to you. Businesses using inbound marketing focus on new methods geared toward building awareness, maintaining relationships and creating leads.

It would be helpful to have a few proposals lying around, such as webinars, ebooks, whitepapers, or kits. Which ones are the most useful in converting traffic into leads? You can determine this by viewing their corresponding landing pages' visitor-to-submission rates in your analytics.
Identify your excellent offers, and promote them extensively to divert more traffic. Apply your email signature to share a link to a popular webinar or ebook. Or if you're currently highlighting a new campaign that highlights a special offer, utilize that in your signature.
Case studies
When considering potential customers, sharing a success story is a satisfactory moment for everyone. Ensure that you have some information which is worth announcing publicly. For example, you can mention how the return of investment (ROI) of a client has been up since they started using your services or product. A link to their testimonials has tremendous weightage and makes the entire claim legitimate.
Free tools
If you have a free trial, free online tools, offer those to your clients make them more interested in your service or product.
Sigsync for Office 365 Email Signature
Sigsync is one of the leading email signature services that will help to create professional, branded email signatures for Office 365 and Exchange users. It is a centralized- web based email signature service that makes the signature creation more simple with its flexible signature generator. It allows various signature components such as to include in the signature and to brand personal as well as organizational level. You can insert images, social media, personal fields, address fields, contact fields, Analytics links, OneClick Survey etc. Which is a motivating factor to implement best marketing strategies. Need help in creating a personalized signature? We offer you exactly that.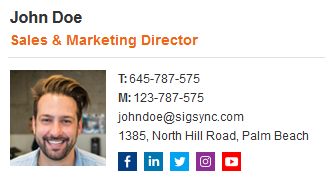 Free Email Signature generator
Free online HTML
Email Signature Generator
that helps to create professional and visually compelling email signatures by adding your logo, brand colors, contact details and etc.,
Video: https://www.sigsync.com/kb/video.html
User Manual: https://www.sigsync.com/kb/sigsync-user-manual.html