Collecting feedback from customers, users, and subscribers keeps every business in the track of improvement. It is necessary to find loopholes, identify opportunities, accelerate product development, focus on marketing, Conversion Rate Optimization (CRO), obtain user experience, and give attention to customer services.
If the customer leaves a negative feedback, the company has to concentrate on those areas where the customers are unhappy. Along similar lines, if the customer comes back with a positive feedback, then he/she is undoubtedly thrilled with the service and is likely to recommend the product to others.
Customer satisfaction can be implemented using websites, mobile apps, email, social networking sites, text messages etc. According to statistics, email is the best marketing survey channel with a high response rate.
To add customer satisfaction surveys in your email signatures it needs a survey generation solution like OneClick surveys.
Using these tools one can get rate for the products, collect suggestions to step up on further improvements to the product or service. It is one of the best approach to know the customer pulse and provide them tailor-made services accordingly.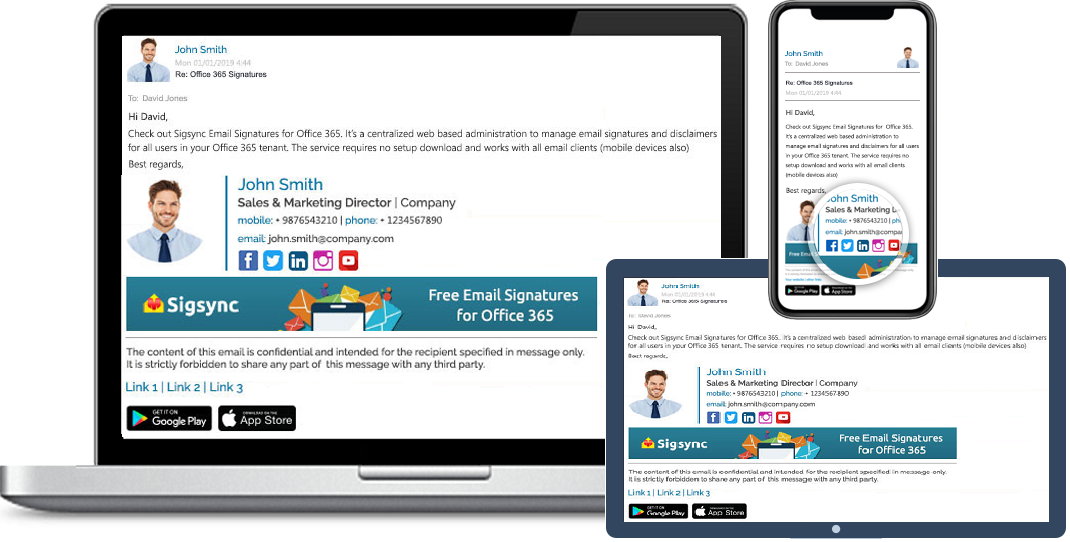 Free Office 365 Email Signature
Free Office 365 Email Signature
s manager allows you to centrally manage email signatures.Consistently deliver your brand-compliant Office 365 Email signatures company-wide.
How to make customer feedback survey using Email signature?
Customer feedback may be a simple question, a link, capturing user reactions using emojis etc. Embedding emojis in the e-mail signature helps you to gather customer feedback with a single click. These icons in general can showcase different moods of your customer whether they are ecstatic, unsatisfied offended or totally neutral towards your service.
While collecting customer feedback, it is important to keep the following things in mind.
Keep the questions short. Do not include multiple questions under the main question.
Ensure maximum customer involvement in the survey by incorporating smiley faces. Smileys instantly connect to user's reactions and there is a greater chance that they engage in the survey.
Take care to design the surveys which are aligned to the content.
Experiment with different feedback methods in the e-mail signatures for every mail you send.
Why to select Email Signature to collect Feedback?
Several questions may arise when we ponder over this topic. Is there anything special in the email signature that compels us to gather feedback? How is this method different from the conventional form of taking surveys by sending a normal email? Lets see the advantages that an e-mail signature brings along with it.
1. Survey is optional
A survey included in the email signature is an optional one. This email does not exclusively direct attention to the feedback unless questions are added in the signature.
An email that is intentionally sent to collect feedback might come across as a marketing trick . There are also chances of the mail getting lost into oblivion. But when signatures are included, there is a greater likelihood of the recipient reading the e-mail which might contain valuable information. The ball is now in the court of the customer to decide.
2. Easy to involve
Including OneClick surveys in your email signature is an effortless method for customers to share their opinion on the go. Emojis alleviate the burden of writing lengthy reviews or comments. They are fast, easy to click and are closely associated with the emotions of the user.
3. Not Annoying
Email signature feedback is normally displayed towards the end of an email. Those who aren't interested in participating in the survey can skip it and they'll not get any future notifications or reminders for the same. Its hidden presence at the end of an e-mail does not make it annoying or result in a high unsubscriber count.
4. Say 'No' to Spam
Spam filters do an aggressive task of flagging an e-mail as junk when a large number of users report the e-mail as spam. A traditional e-mail sent out to the masses to obtain feedback can be seen as unwanted by many thus triggering the spam filter to do its job. On the contrary, an e-mail having a signature does not extensively market itself as trash due to its non-obligatory nature. The actual e-mail with which the e-mail signature is sent contains valuable information and is safe from the action of the spam filter. You can now safely bid goodbye to those pesky e-mail filters taking down your e-mails.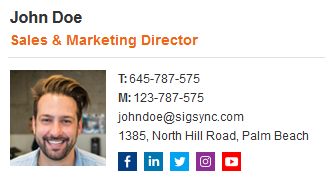 Free Email Signature generator
Free online HTML
Email Signature Generator
that helps to create professional and visually compelling email signatures by adding your logo, brand colors, contact details and etc.,
How to Use Email Signature Feedback with Emojis
Emojis are practical and provide you with an easy-to-use interface for users to share their feedback. Adding a survey in an email signature is a straightforward process using Sigsync Signature Generator.
Conclusion
The benefits of email signature survey are crystal clear to adopt it in your business right away. The fact that it isn't annoying is the greatest boon any marketing team would wish for. It lets an organization gather useful data from subscribers without actually spamming them.
Sigsync email signature for Customer feedback survey
Sigsync Office 365 Email Signature allows adding OneClick survey in signature to collect feedback from the customer through email. Customers can directly rate their experience with a single click.
To integrate OneClick survey with Sigsync Email Signature service you can use third party services such as Hively, CrewHu and Trust pilot. Insert the OneClick surveys HTML code snippet in the prompted window.
For more details Visit: https://www.sigsync.com
Video: https://www.sigsync.com/kb/video.html
User Manual: https://www.sigsync.com/kb/sigsync-user-manual.html