As the worldwide pandemic is wreaking havoc on many businesses, many companies prefer that their employees work from home. Communication through email has taken the front stage of interaction between employees and even with the customers. So this has brought about new set challenges that companies have to deal with: Running a tight ship, short staffed situations, poor face to face interaction, strict tracking of the productivity, reduced employee involvement, cutting down on expenses, shelving expensive projects, and many more.
To drum up the business and kick start marketing activities as before, an email signature comes with a ray of hope to address these challenges. The advantages these digital signatures are bundled with are not to be sneezed at.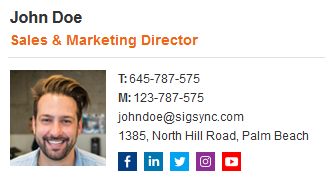 Free Email Signature generator
Free online HTML
Email Signature Generator
that helps to create professional and visually compelling email signatures by adding your logo, brand colors, contact details and etc.,
Some of the aligning features that makes an email signature beneficial during the current crisis
Practical marketing strategy: Any marketing strategy is framed as per the current trend in the market. Email signatures offer low cost marketing channels to target a wide audience that turns into an ideal marketing solution. It is advisable to make a smart move of selecting the right medium in which customers are most active and involve your employees to campaign the products there. Include colorful and attractive banners that stand out from the crowd. Unleash the creativity and make it an attention grabber. Be it social media, online webinars or the latest blogs, leave no stone unturned.
Best service: One should be active and engage the customers by sending them emails with signatures that are easy on the eye. Make the best use of your employee's time at home by asking them to conduct a timely survey on customers' experience on the product. Questions and feedback often function as lubricants to complete the long-standing turnkey project.

Staff Involvement: As most of the employees are forced to work from home, tracking and monitoring each and everyone's task can be a challenging affair in addition to the already loaded responsibilities for a company. Mails cleverly crafted by attaching the signature in the company's internal email can survey employee's involvement in the tasks, marketing, etc. Important online events, group discussions, or details about the latest skill building programs in the signature act as a reminder for your employees.
Manage the situation: In any situation, consistent involvement of the company is significant. Engage the customer by providing various offers/discounts. Along with these, understanding the requirements of your customer through analytics is of prime importance. These track a customer's choice, how they interact, what product they are interested in, what discounts they look for, and so forth. Healthy tracking also directs in offering tailor-made products to the client.
Conclusion: Although the virus ridden pandemic has pushed the entire humankind to a tight corner, it makes no sense to keep harping on it when winning those customers is high on the agenda. Instead, make the best use of the situation by adopting smart techniques in your e-mail signature to derive the maximum benefit out of the service.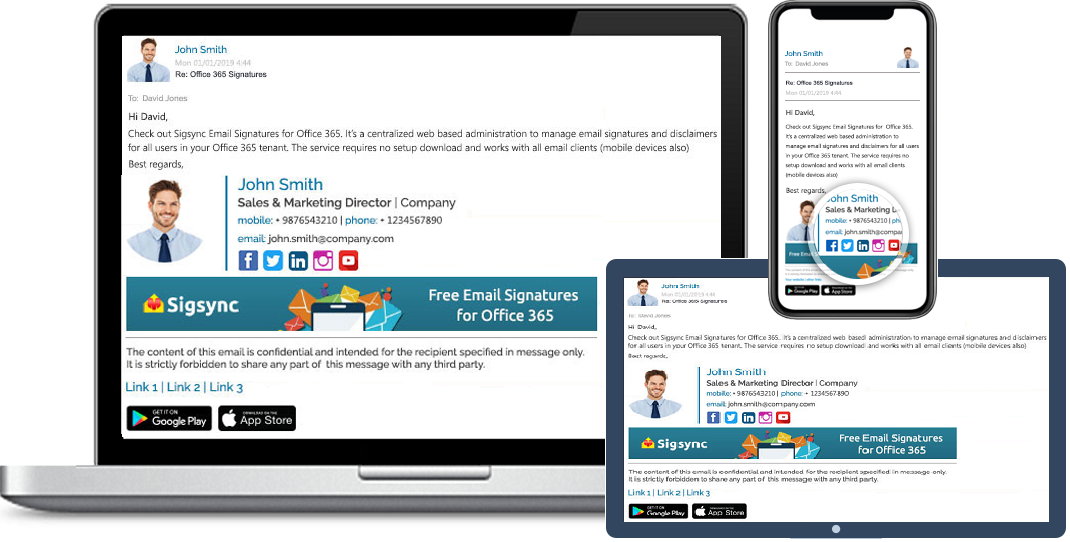 Free Office 365 Email Signature
Free Office 365 Email Signature
s manager allows you to centrally manage email signatures.Consistently deliver your brand-compliant Office 365 Email signatures company-wide.
Sigsync for Office 365 email signature
Sigsync is a Microsoft-approved email signature service for Office 365 and Exchange users. It is a highly secure and centralized email signature solution that manages the email signatures for all the employees across the company.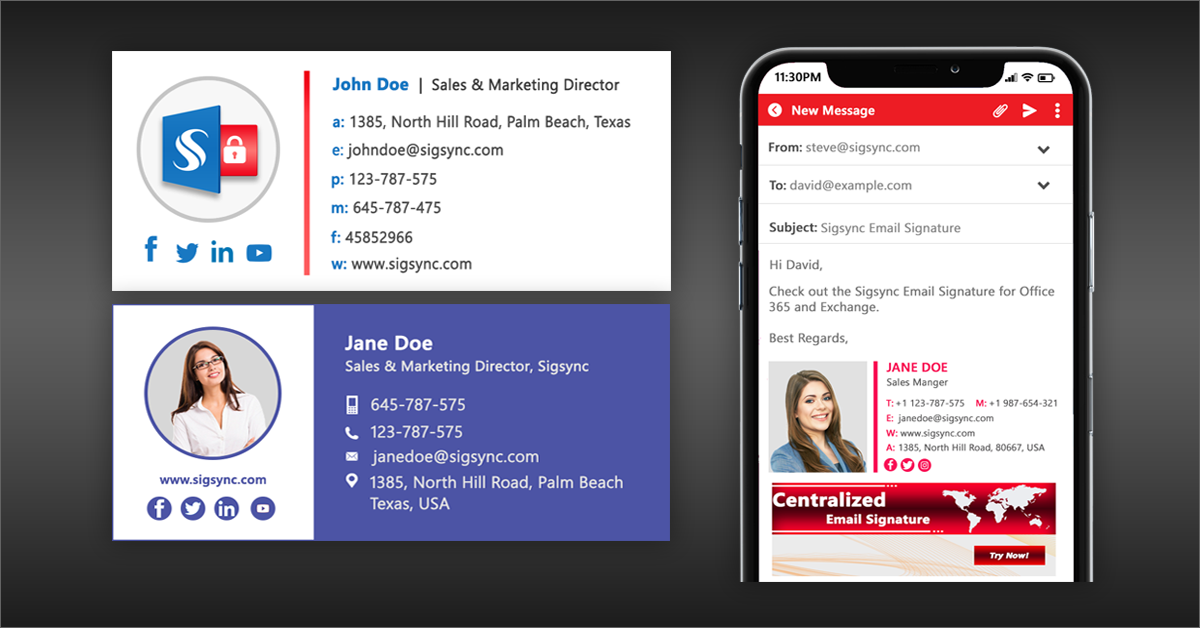 You can create an email signature from the varieties of templates or start from scratch using a simple and flexible drag-drop signature generator. Utilize various signature components in signature creation and create a brand in the market.
For more details, Visit: https://www.sigsync.com
Video: https://www.sigsync.com/kb/video.html
User Manual: https://www.sigsync.com/kb/sigsync-user-manual.html