Companies' true love is their customer, and marketing is one of the ways to reach their true love. Developing excellent products and not appropriately marketing them is like a treasure buried deep beneath the sand. Proper marketing strategies can significantly alter companies' success, and they always use three magical words, i.e., EMAIL SIGNATURE MARKETING, for a successful
Marketing can be considered as a treasure hunt game where several participants are in the quest to have their hands on the stroke of luck. Merely searching for the treasure yields no satisfactory results. We need to devise a careful strategy, raise the bar and give other a run for their money. Even in marketing, planning is considered only halfway home. Collecting the requirements and executing the plan is the other half.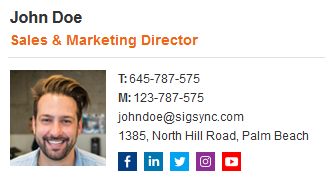 Free Email Signature generator
Free online HTML
Email Signature Generator
that helps to create professional and visually compelling email signatures by adding your logo, brand colors, contact details and etc.,
Here are some of the noteworthy points how an email signature can create a sensation in your audience
Strategic planning is essential to win the game
Patience is the key to achieve success in marketing; we cannot expect lightning fast results or hundred loyal followers on a single day. To get the ball rolling, companies send an average of 100 emails on a daily basis to their users where the success rate is significantly less. Many emails simply fail to make a mark either because they are delivered to a dead mailbox, or might be buried under heaps of other priority e-mails. Even worse, marketing mails in general are considered a nuisance by recipients and are often flagged as spam. Battling everything, email is all the more an excellent opportunity for the companies to market their brand.
Impress them personally
We send lots of emails to customers hoping to somehow impress them in marketing. It might hardly strike a chord with unknown customers. But if the customer is an acquaintance, you can impress them by having prior knowledge of their requirements. For example, Be on the ball, deliver the elements that they covet the most, offer them personalized discounts, give them that special attention they crave for. For designing attractive banners in your e-mail signature approach the developer of your company, or you can even use a third-party service like Sigsync. They provide some of the best email signature templates to use or allow you the flexibility to upload HTML code for signatures as you require.
The first impression is always the best impression
According to sociological theories, man is a social animal. Research has proven this time and again. The advent of social media sites has taken the norm one step ahead. People are fond of socializing and knowing the likings and preferences of others. We all love to visit the coffee shop which is famous in town don't we? In a similar fashion, customers have a hard time moving into uncharted waters. It means that if your product fails to connect with the audience at first sight, they don't want to risk themselves using it unless recommended by others. The first impression is also the most difficult one. Including testimonials about customers in your signature who are already accustomed to your product can create a positive impact on new customers. It tries to connect their sentiments and makes them feel emotional.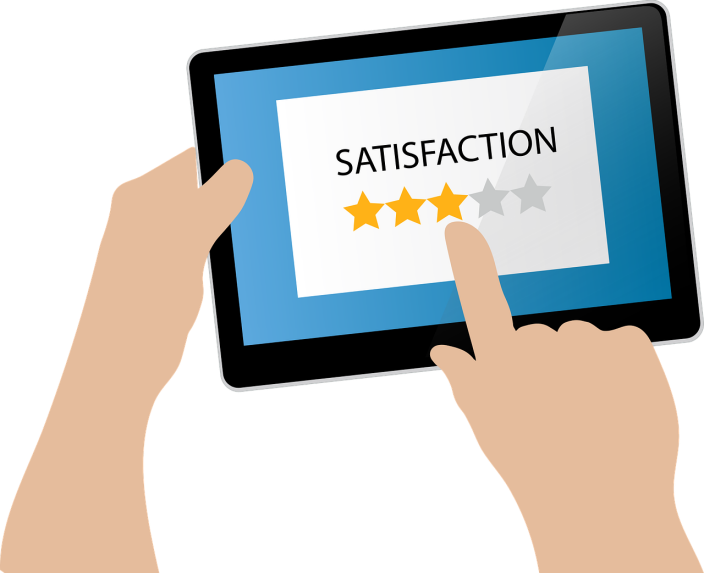 Make the interaction more critical
In digital marketing, it is essential not to throw in the towel too soon. Seasons and festivals tend to have a calming and relaxing effect on human minds. Its that holiday time of the year where people look out to enjoy and desire a stress free time to spend time with their family. Offer discounts and make the situation seem urgent. Strike the iron while it is hot. For example, captions like sales last only till the end of Christmas or end of this week make people to doubly reconsider their decision if they are missing out on that deal of the year. Interactive banners make the audience cleverly land on the relevant pages like home pages, product pages, blog pages, or any other. If you have multiple products to sell, make sure you use redirection so that customers are also attracted or atleast made aware of them.
Establish a Relationship and make them part of your family
Analytics in e-mail signature provide real-time status of customers. For that, we need to take the help of the third-party service to get real-time analytics. Sigsync Email signature is one such service that provides an option to add analytic links in company's email signatures which can help track the activity, conversion rate and user behavior on a website. It includes user's actions, users count, and the page they visit, etc. Interactive banners have a positive effect and engage the customers. Light colors which are easy on the eye, matching color templates, signatures which include relevant information are some of the elements which can make a difference on how your recipients perceive your e-mail. Rewarding loyal customers, catering to them personally, reviewing existing feedbacks can take you a long way in building good rapport with your customers. You can also request them personally to spread the word. One-click surveys make the task simpler by capturing users reactions through emojis.
If you are looking to create a professional e-mail signature for your business then look no further. Using Sigsync you can create company-wide and centralized Office 365 E-mail signature for all your needs. We also have the option to assist you personally for a walkthrough of our service. If you are impressed with Sigsync's Email Signature, then book a date with us for a Free Personalized Demo. There are hundreds of customized templates to choose from. Disclaimers and banners can also be added using the built in tools. Start using it right away!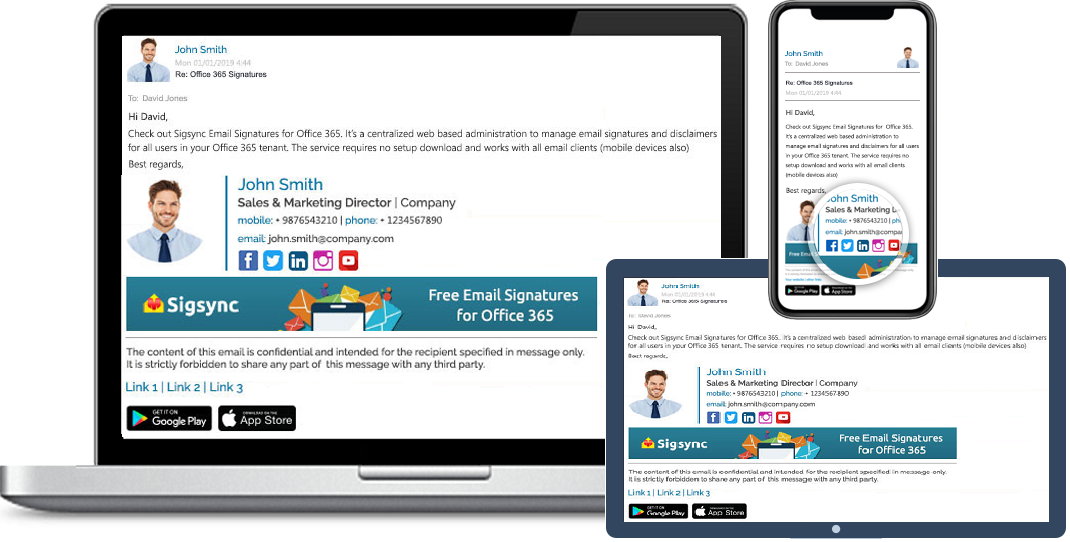 Free Office 365 Email Signature
Free Office 365 Email Signature
s manager allows you to centrally manage email signatures.Consistently deliver your brand-compliant Office 365 Email signatures company-wide.
Video: https://www.sigsync.com/kb/video.html
User Manual: https://www.sigsync.com/kb/sigsync-user-manual.html