Every business organization starts out to set an e-mail account with a provider having a branded name and which is almost omnipresent. One such service which immediately comes to our mind is Microsoft, which we can undoubtedly say, has dominated the computer business since time immemorial. Microsoft also offers Office 365 for business users which has various sub-facilities like exchange, apps, SharePoint, and teams. It can be thought of as a one-stop shop having everything under the sun. But when it comes to designing an e-mail signature, which is very much essential for a business setup to boost their ratings, it has certain pitfalls.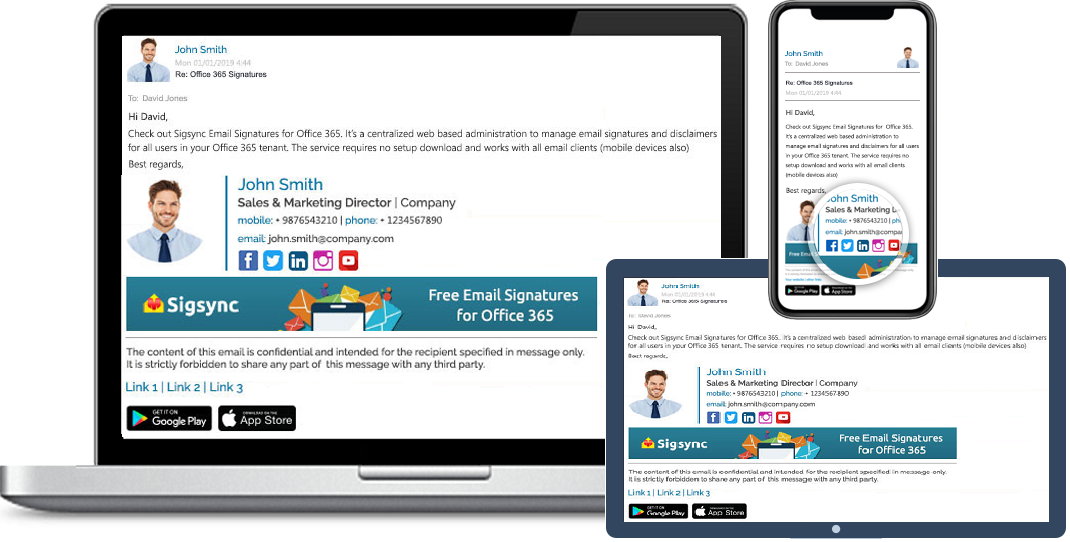 Free Office 365 Email Signature
Free Office 365 Email Signature
s manager allows you to centrally manage email signatures.Consistently deliver your brand-compliant Office 365 Email signatures company-wide.
Limitations of using Office 365 Signature Generator
Office 365 does not offer HTML editor. Lets agree, that software industries have coding masters to perform this no sweat task. But in reality, not everyone can be copy-pasters of a programming language to harness the full potential of the code functionality. Some would desire for a personal touch.
No option of attaching a photo to the signature. As the saying goes, a picture speaks a thousand words. An image or a graphic markets itself, as people tend to perceive visuals and faces rather than pieces of text. A picture makes a signature look more professional, unique and connects the crowd. Office 365 has no option of automatically attaching snaps to the signature.
Cannot delegate signature management.An organization would want flexibility in various departments. When an appealing signature needs to be designed, the control needs to be transferred to the marketing department. This comes at a price wherein they have to obtain permissions to mail flow and cannot be delegated with the task of handling the signature management alone.
Signatures are not visible in Sent Items. Companies usually include a disclaimer at the end of every email to protect their businesses. There is no way to find out whether the sent mail in Office 365 has the required disclaimer content or not. Wouldn't it be very embarrassing to bombard the recipients with strange questions asking them about the correct display of the disclaimer notes?
No way to remove empty Active Directory (AD) fields in an e-mail signature. Many users do not wish to be contacted directly via their mobile numbers and choose to hide their details. This results in an empty AD field in the signature and Office 365 has no way of tracking them. A blank field also arouses curiosity about the sender and makes it look odd.
Sigsync as an alternative to Office 365 Signature Generator
Sigsync is one of the best alternative to Office 365 which tries to address the issues of Office 365 outlined above.
Here are some of the features of Sigsync
Centralized and Company-Wide Web based Signature Management.Sigsync is a centralized, web based signature management which does not require any advanced HTML coding knowledge to create a signature.
Offers the option of attaching a personalized photo to the image. The myriad of templates offered in this services makes it very convenient to attach personalized images to connect with the audience.
Assign Admin role to manage your signatures. As pointed earlier, the marketing team is left with little or no choices in gaining control to the graphic dashboard. The 'Make Admin' feature of this service makes it easy peasy to designate admin controls to the marketing team.
Instant updation of Signature in the Sent-Items folder. To be on the safer side, companies must adhere to legal standards and comply with laws. The disclaimer added to a mail is automatically reflected in the 'Sent-Items' folder in Sigsync.
Removes empty field in an e-mail signature. Since the AD fields are populated dynamically in Sigsync, it eliminates the bizarre looking ghost fields in the signature.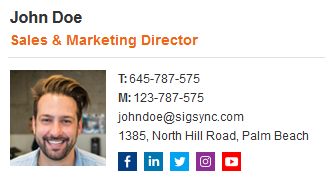 Free Email Signature generator
Free online HTML
Email Signature Generator
that helps to create professional and visually compelling email signatures by adding your logo, brand colors, contact details and etc.,
More information on Sigsync Signature Generator can be found by visiting: https://www.sigsync.com/office-365-email-signature/features.html
Video: https://www.sigsync.com/kb/video.html
User Manual: https://www.sigsync.com/kb/sigsync-user-manual.html