Nowadays mobile email clients are more widely used than PC systems. They are practical, easy to be in the loop and convenient at any place. People are used to reading emails on the go while traveling, having their morning cup of coffee or before bedtime. As mobile phones offer the facility of checking and replying to e-mails on the fly they have become universal forms of communication. A desktop or a laptop PC on the other hand suffers from issues like portability, power connection problems etc.
As mobile email clients are widely used, it is essential to have proper mobile email signatures. Flourishing companies never encourage or allow email signatures managed by individuals. We will see a few examples of inadequate or poor mobile email signatures.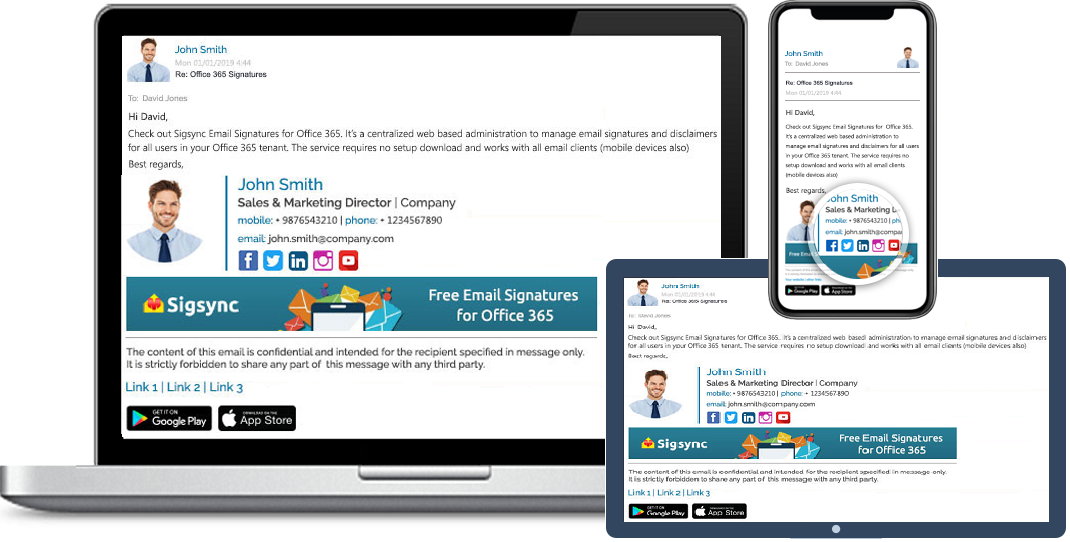 Free Office 365 Email Signature
Free Office 365 Email Signature
s manager allows you to centrally manage email signatures.Consistently deliver your brand-compliant Office 365 Email signatures company-wide.
Device details in mobile Email signatures
The default mobile email signature normally includes device details in the email signature like "Sent from my iPhone, Android'. This is appended by default in most of the email clients. But individuals need to update this signature before sending any mails. Recipients rarely do care about these stale forms of text. Instead, the e-mail signature must include details about the company and product banners which immediately catches the eye of the receiver.
Cross check your spellings in an Email signature
Replying to emails from a mobile phone is prone to typos as we usually tend to send a quick reply hoping not to lose precious customers. Incorrect spellings, fancy emojis, using short form expressions is a big no go in professional signatures. It projects you in a poor light and makes you come across as unserious. An alternate way to avoid this mess is to make use of saved and standardized templates.
Unwanted information in Email signatures
Including too much irrelevant information in mobile email signatures can puzzle the recipient. Well known clients and investors will already have your contact details saved. They will be more inquisitive to know about your new product launches, quarterly and yearly business profits, opening new branches and so forth, Including in detail contact information will put them off and dash their hopes. On the other hand mentioning contact details, discount offers and blog links in the signature to new found customers is sure to kindle their curiosity and know more about your product. Incorporate only targeted details which will be of interest to your recipients.
Adding funny or comical email signatures
Another not so good example of an email signature is adding funny elements to your email signature. Your colleagues might appreciate your sense of humor, and you might even have a fan base for it but it hardly yields anything from the company's perspective. Religious Quotes, philosophical thoughts, emotional messages, obscene jokes are all such examples. Being philosophical in your personal life might be right but exhibiting it spontaneously in your professional email is unacceptable. As we say, one man's food is another man's poison, your recipient might totally not appreciate your thoughts or even worse get offended. In some countries, it might even be regarded as a taboo. Email signatures should strictly be professional with essential details about your company/business.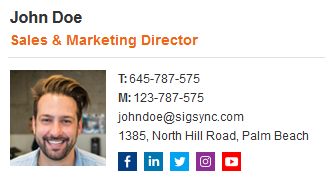 Free Email Signature generator
Free online HTML
Email Signature Generator
that helps to create professional and visually compelling email signatures by adding your logo, brand colors, contact details and etc.,
How to control mobile Email signatures
One way to control mobile Email signature is to manage it centrally using Cloud storage. Sigsync Office 365 email signature is very helpful to control and manage email signatures centrally which supports signatures from any mail clients and on any device.
More information on Sigsync Signature Generator can be found by visiting: https://www.sigsync.com/office-365-email-signature/features.html
Video: https://www.sigsync.com/kb/video.html
User Manual: https://www.sigsync.com/kb/sigsync-user-manual.html