What is an Email Signature?
An Email signature is a block of text which is added at the end of an email that includes the sender's details such as name, email address, contact details disclaimers, social media links etc.
Why to use Email Signatures?
Exerts a professionalism
Best communication channel for the people to contact you
Creates new followers on social media
Enhances individual as well as company brand
Email Signature Software for Office 365
Native solution is not reliable for the creation of email signature as it needs technical skills for handling and need to set transport rules. Also it comes with many limitations. So one should better to switch over third party solutions like Sigsync Office 365 Email signature service for a consistent Office 365 email signature.
Sigsync is a highly secure Microsoft approved Email signature software for Office 365 and Exchange users. It is as simple solution and provides various pre defined templates as per your business needs. Its flexible, drag and drop signature generator helps you in creating as well as customizing the required email signature.
Centrally Managed Email Signatures for Office 365
Sigsync is centralized email signature management service. It's dashboard allows admins to create and manage the email signatures and disclaimers for all Office 365 users. It ensures data integrity and also helps to stay compliant with legal regulations.
Azure AD names and photos in email signature
Sigsync can pull sender's information from the Azure Active Directory such as name, photo, phone number, etc. and add in your email signature.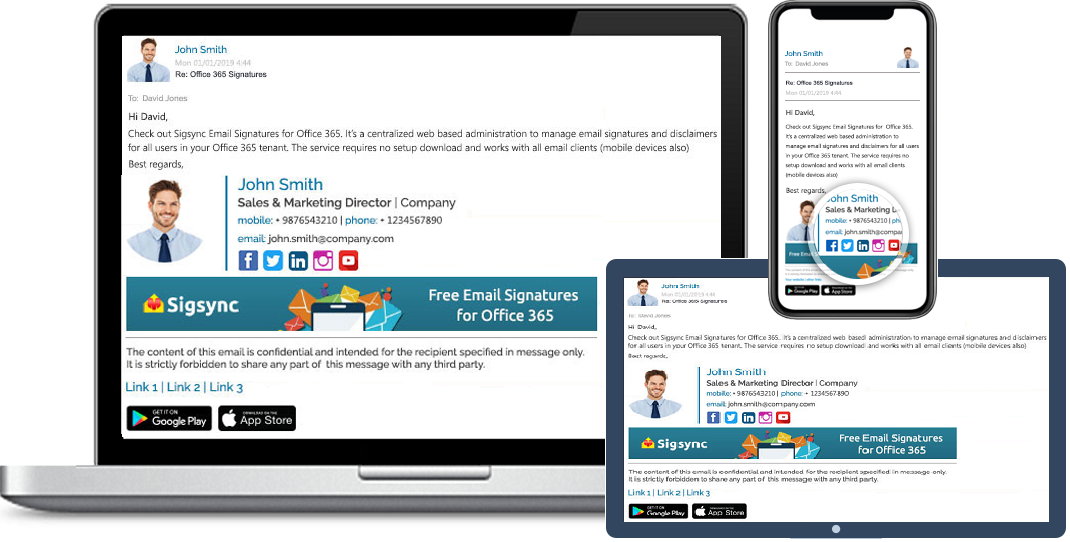 Free Office 365 Email Signature
Free Office 365 Email Signature
s manager allows you to centrally manage email signatures.Consistently deliver your brand-compliant Office 365 Email signatures company-wide.
Safe and Secure email signature service
Sigsync uses secure cloud services for email signatures and disclaimers as per the flow guided by Microsoft. Your emails are not stored or read by anyone. It uses Microsoft OAuth 2.0 and TLS encryption for authentication. It will never ask you credentials instead you will be redirected to Microsoft Sign in page for authentication. Your Office 365 credentials are not stored anywhere on Sigsync or any other third-party servers.
It is a Microsoft approved IS0 27001:2103 certified email signature service.
Rules and Signature Generator
Signature Rules are necessary to manage the signature in an efficient way. Create the rule and set the conditions such as to whom, how signature should be added and whom it should not.
Create professional HTML signatures without any technical background using Sigsync signature generator. WYSIWYG Signature generator automatically handles the entire HTML while you place design components such as Section, Text, Social media etc.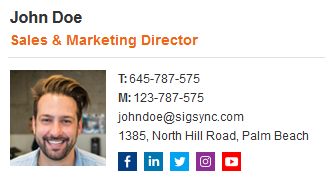 Free Email Signature generator
Free online HTML
Email Signature Generator
that helps to create professional and visually compelling email signatures by adding your logo, brand colors, contact details and etc.,
Few highlights of the Sigsync email signature service
Automatically pulls details from Azure AD to add email signature.
Branded Email signatures and disclaimers for organization.
Email signature under all reply and forward emails.
Preview of signature during email composing.
Enable signature in sent items.
Secured, web-based, easy to configure email signature across all email clients and devices.
Centralized management of Office 365 email signature for all the employees.
User-friendly dashboard to choose and customize templates as per the business needs.
Automatic configuration of Exchange Online.
Provision to effective advertises for the services by customizing email signature with banners, social media links, and brand logo.
Option to include web analytics and OneClick survey.
Visit website: https://www.sigsync.com
Video: https://www.sigsync.com/kb/video.html
User Manual: https://www.sigsync.com/kb/sigsync-user-manual.html