Photos and personal images are a great way to communicate and socialize with people. A picture is worth a thousand words they say. Adding photos in email signatures immediately connects you with others and adds a personal touch to the email communication. It makes you known to others even before you establish an actual face-to-face contact. A professional looking image with a friendly smile leaves a much greater impression than a neutral expression. Profile images also have to follow certain guidelines if they want to stand out from the crowd and make your customers respond back to you. Choosing the right image for the right job also is the key in making your image successful. It absolutely does not serve any purpose if for example, you include your latest hippie photo from the vacation if you are writing professional emails to a business partner. Professional and personal space must be totally kept apart unless and otherwise explicitly asked. In this article, we shall look at some of the do's and don't's while using profile photo in your email signatures.
Here are some do's that make your profile photo stand out in your Office 365 email signature
Look straight towards the camera. Add a quality headshot with a friendly and relaxed facial expression to show yourself as an interesting and approachable person who the recipient would like to respond to.

Add a clean, crisp image that exposes you at your best and that has been taken purposefully.

Mix and match colors and play around with them. If you wear spectacles with a red frame, match the colors of your e-mail signature text with it. A purple tuxedo contrasts with a light purple background and so forth. A maroon pantsuit for women complements well with a light orange, pink or a cream colored background. In the image below, the green color of the signature background matches well with the green social media icons.

Smile is one of the highlighting factor in an image. It brings in freshness, positivity and makes your customers energetic.

Cross check whether your profile image is displayed correctly on all the devices before using it. It might look picture perfect on the desktop but might totally look out of shape when viewed on a smartphone browser. Crop the dimensions a little if the image seems overly large.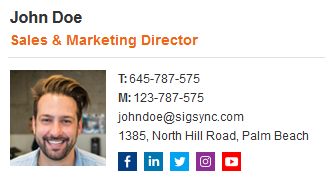 Free Email Signature generator
Free online HTML
Email Signature Generator
that helps to create professional and visually compelling email signatures by adding your logo, brand colors, contact details and etc.,
Here are some dont's that portray your profile photo in a negative manner
Ghostly red eye images are a big no go. Make sure you edit them beforehand or best of all don't use them. They make your image look scary and gruesome. Better save those images for your next halloween party.
Never hide behind items such as sunglasses, or props such as hats, face covers etc. Recipients would like to see you in your original form. Covering the head for religious reasons is however perfectly understandable.

Don't use digitally enhanced images or overly edit the image with sharp filters. It might be a huge success in your instagram post, but sadly not in your email signature.

Keep in mind the shape of the photo. Round and square cuts look the best. Anything else must be avoided. Hexagons, ovals, stretches are some examples of boring borders to use and they highly disorient the image.
Adding catchy quotes to complement your profile image might seem like a cool thing to do. But adding inspirational quotes in the corporate email signature might not go well with your organization guidelines.
Bad lighting also make the images look uninteresting and boring. An insider photography tip is to capture the image with a preferably bright white background.
Also use images with medium to good resolution. Small images might be convenient to insert but look blurred or pixelated when viewed.

A blurry or a group image from your latest party might showcase your creativity and highlight your abstract moods. But they are strictly prohibited in professional email signatures. The customer hardly perceives your message and you might even sound unprofessional.
Sigsync is a one-stop solution to add profile photos for all your Office 365 email signatures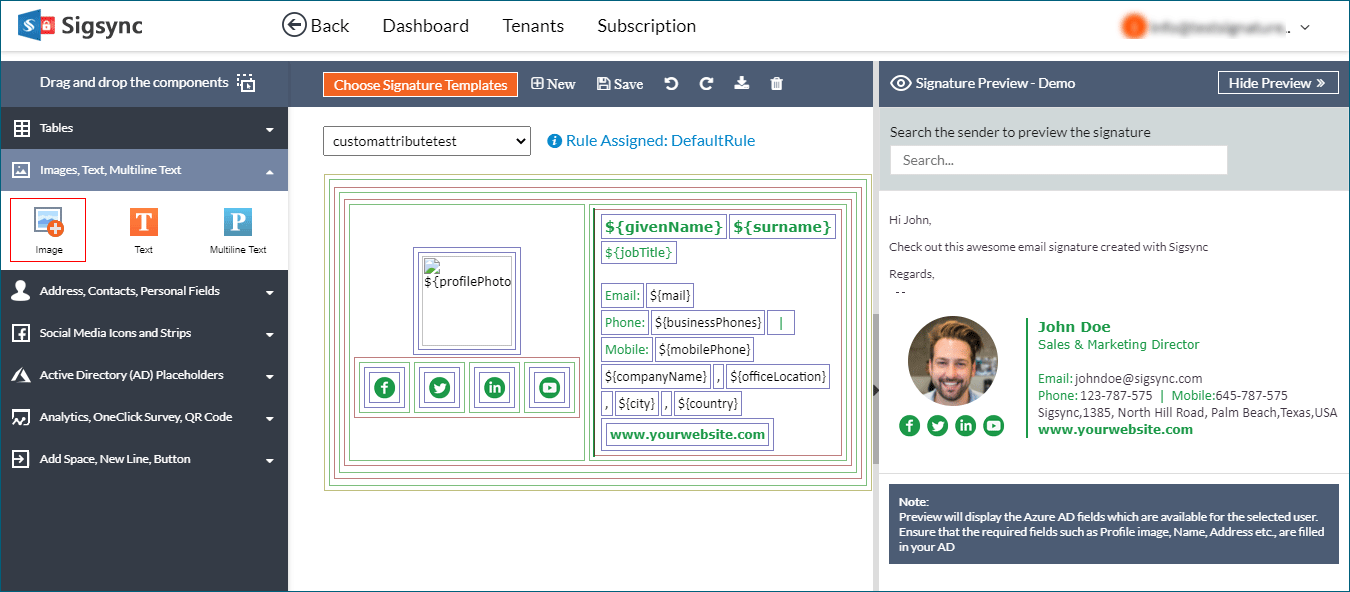 It is unlikely that you can add photos in Microsoft 365 (formerly Office 365) email signatures manually. So it is wise decision to approach third party tools like Sigsync Office 365 email signature solution that helps to add profile photos for each Microsoft 365 (formerly Office 365) user in the email signature.
How to add a profile photo in your email signature using Sigsync?
Step 1: Headover to https://www.sigsync.com and click the 'Login' button in the top right corner of the page.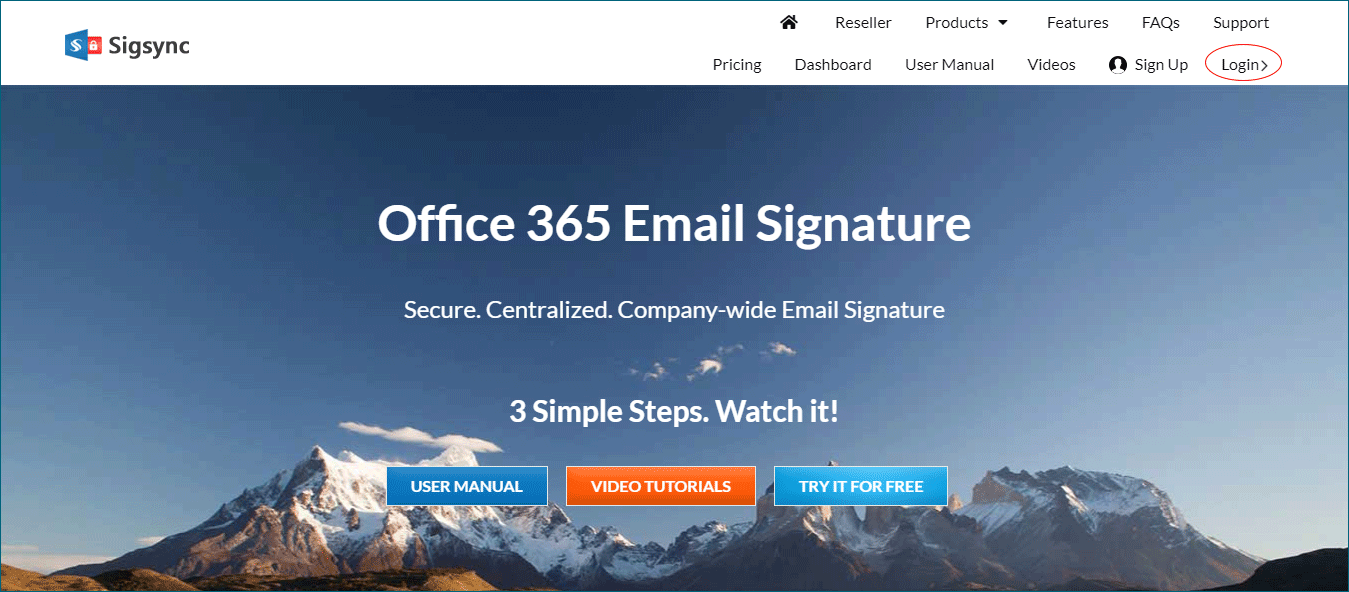 Step 2: If you are using an Office 365 account click 'Login/Sign up with Office 365'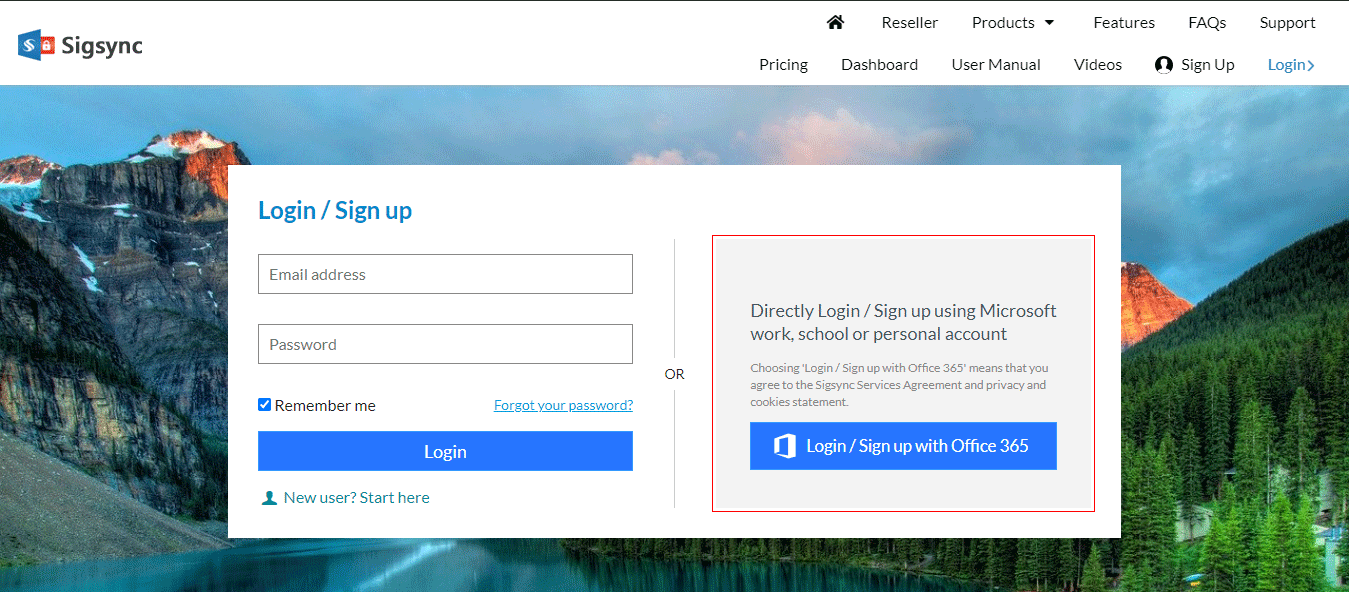 Step 3: Enter your Login credentials like 'Username and Password'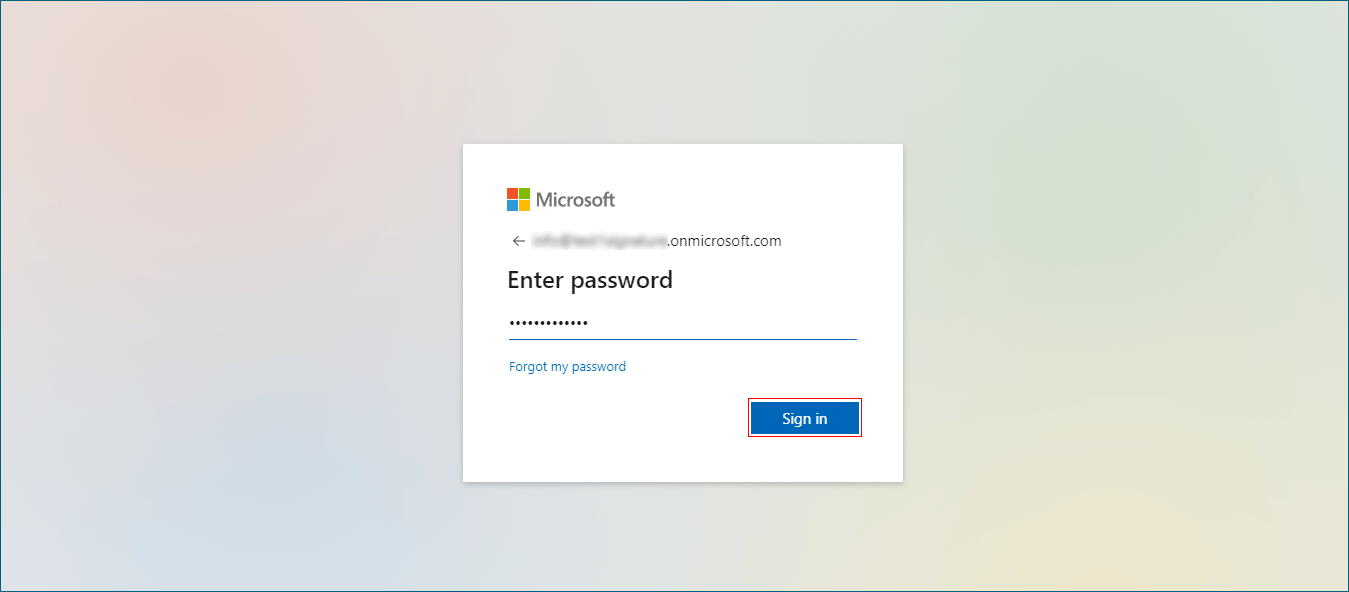 Step 4: Under the 'Dashboard' tab click 'Manage Tenants and Signatures'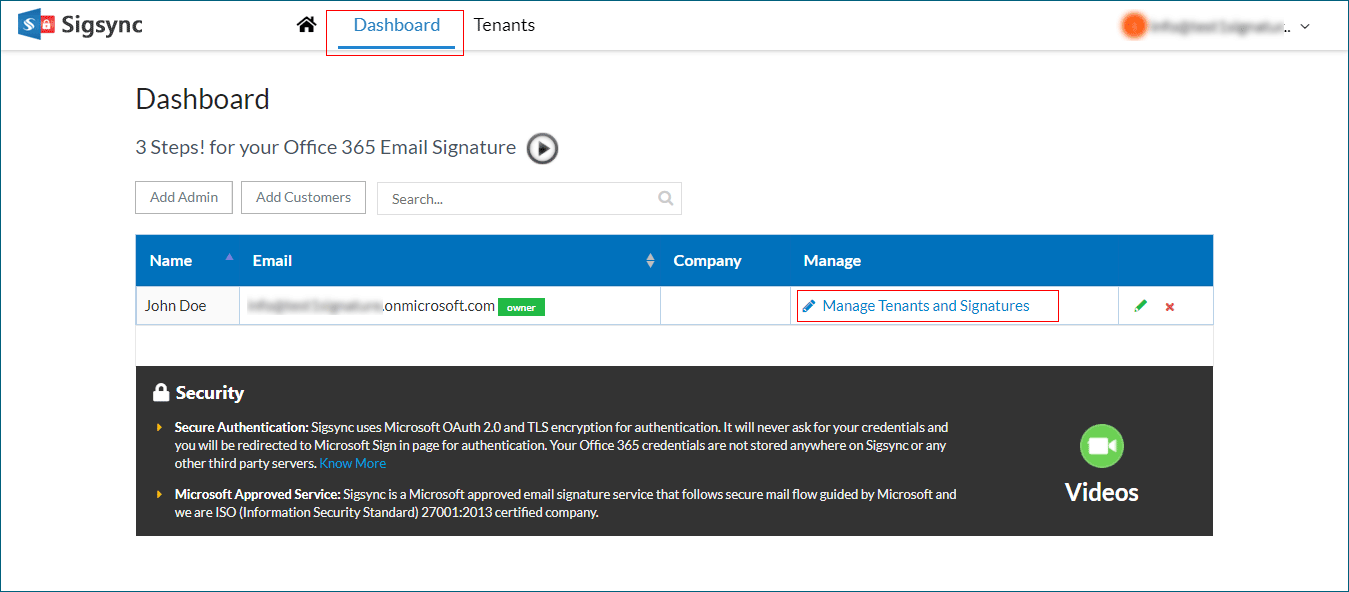 Step 5: In the next page click 'Create, Edit, Manage Signatures'

Step 6: Under 'Tenants' click the 'Signature Generator' tab in the left hand column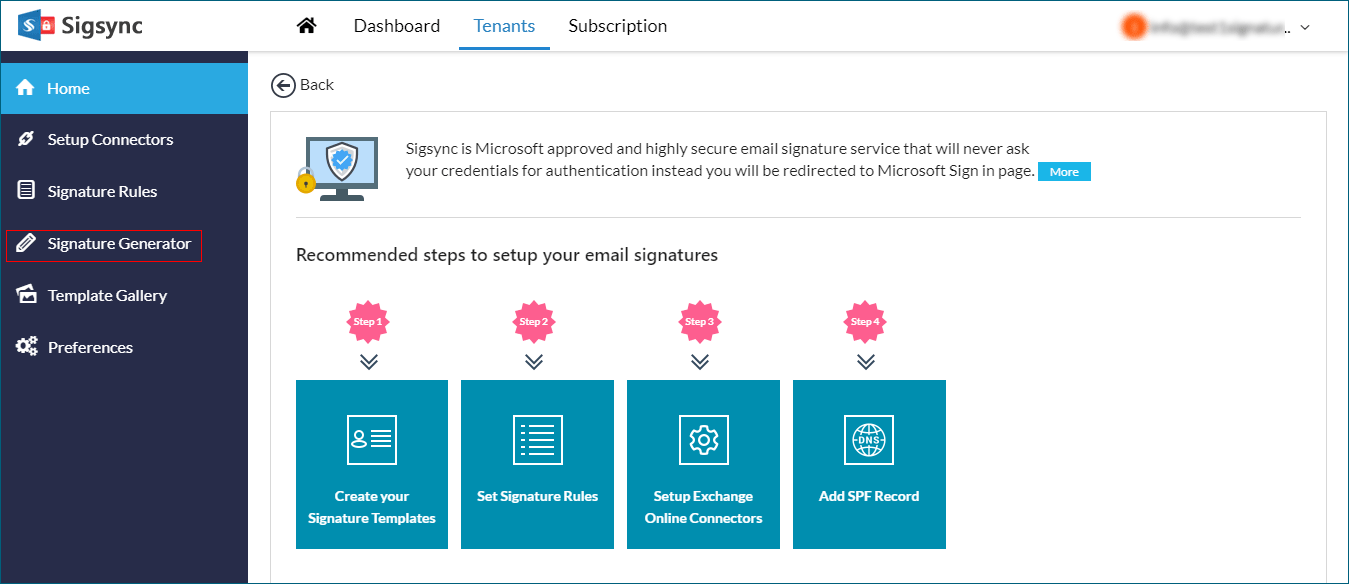 Step 7: In the left hand column, click on 'Image' and Drag and drop the Image block in the signature layout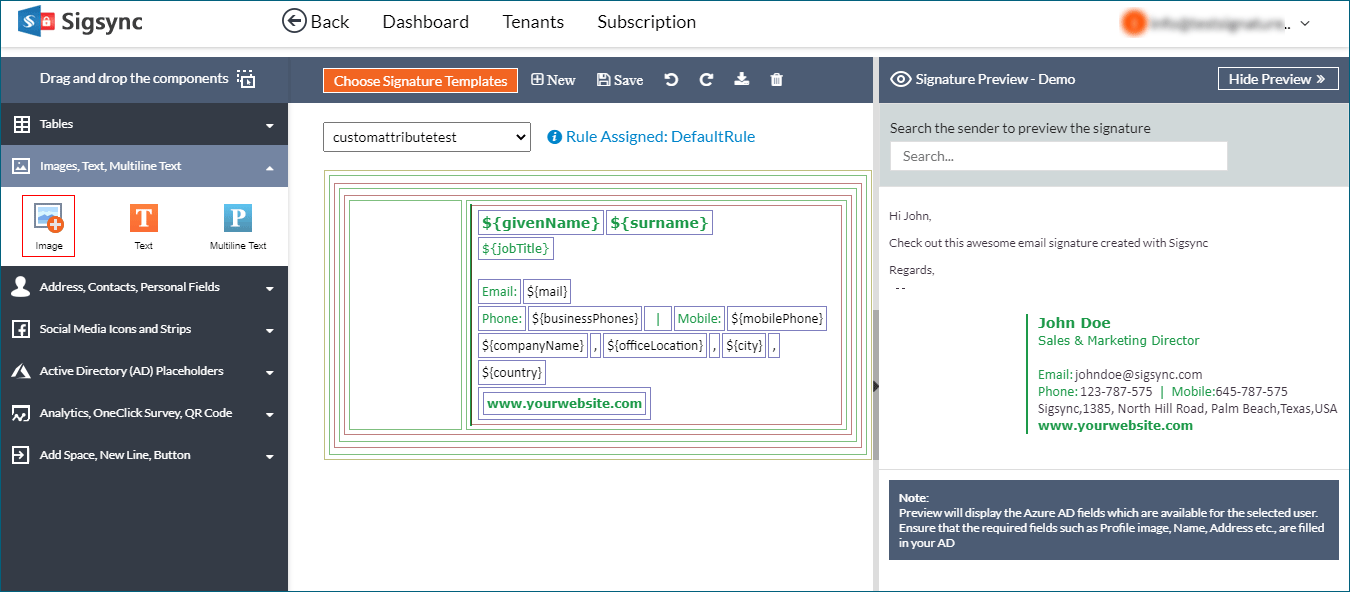 Step 8: Select an option to load the picture (Local or Online). You can resize the image.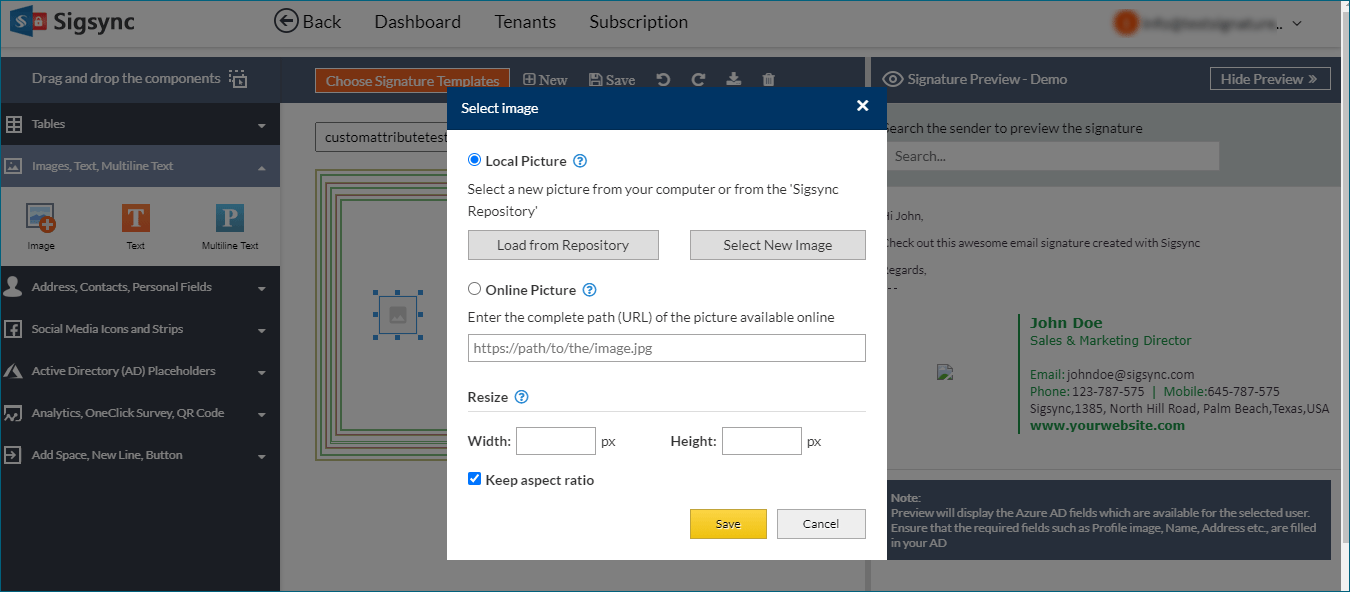 Step 9: Select the desired image and click 'Save' for the changes to take effect.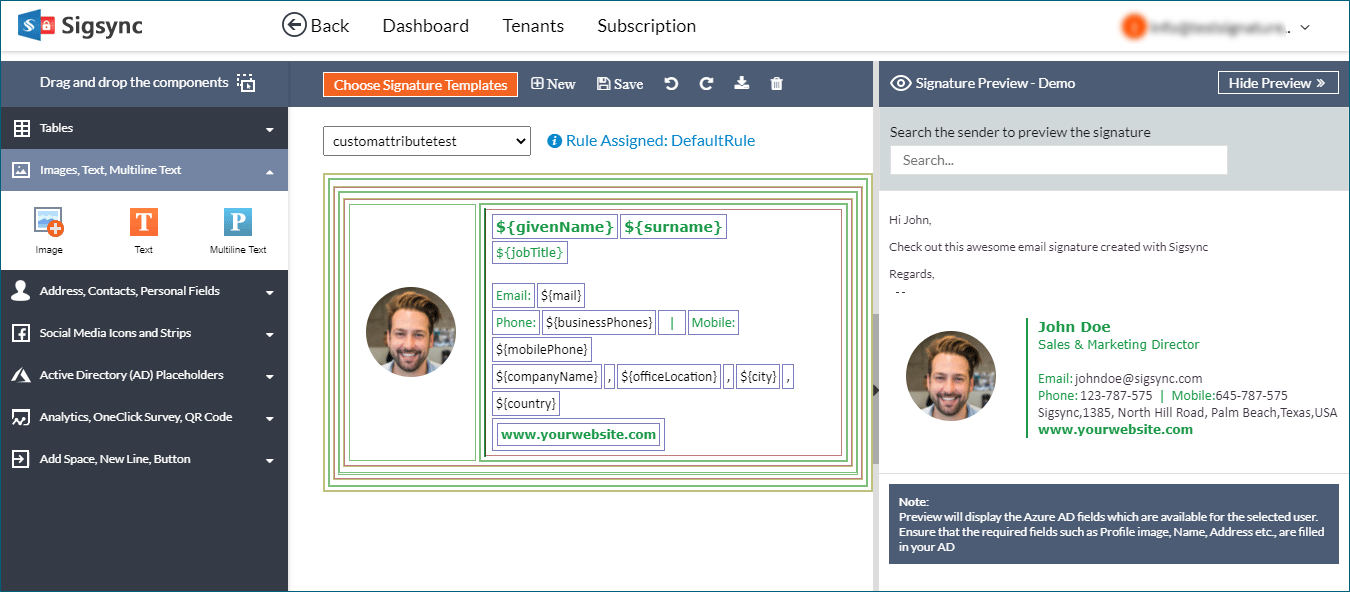 For more details, Visit: https://www.sigsync.com