Every email carries a brand impression that delegates an organization. In addition to the greeting, content, and sending an email, adding a signature is sure to grab the attention of the recipient, which is why most of the companies rely on email signature services to centralize their signatures. Although these e-mail signatures can be designed manually using photo editing softwares or HTML skills, they come with certain limitations as outlined in this article. Parallelly, choosing a solution that is well worth, yet which includes all the necessary features for the easy management of email signature is a challenge in itself.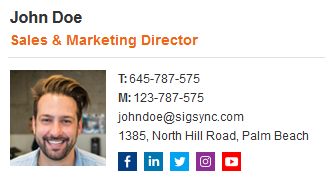 Free Email Signature generator
Free online HTML
Email Signature Generator
that helps to create professional and visually compelling email signatures by adding your logo, brand colors, contact details and etc.,
Here are the 10 essential features to consider when evaluating email signature services:
Centralized management

When email signature management is considered for the whole team or the whole company, it becomes messy and disorganized if employees keep updating their signatures individually. Company details, product promotion updates, marketing campaigns, disclaimers etc. may be thrown out of gear and can deviate away from the existing streamline. Centralization is the only way to roll out company-wide changes immediately. It allows instant signature updates for all the employees at one place in a single click.

High data security

Security is a very important factor while choosing an email signature service. Data security is a prime concern to the overall well-being of your business. By selecting the right service that meets all the required security standards, your business can be saved from unwanted intruders or exposure to crucial data

Compatible with all devices and email clients

Any signature that is designed should be compatible with all devices and email clients. It is certainly an embarrassing situation when a signature that was displayed correctly on a desktop gets entirely distorted when viewed on tablets or mobiles. Some signatures may encounter display issues due to the device settings itself. So select an email signature service that ensures uniform compatibility over all devices and email clients.

Include appropriate contact details

An email signature solution should provide an option to include appropriate contact details of the sender so that a recipient can easily establish contact for further discussions. It would be ideal if it supports Active Directory integration, so that any changes are reflected automatically in the signatures. It should also support social media icons so that your business can shine and grab eyeballs on a wider platform. This also opens up tremendous marketing opportunities with your loyal followers.

Offers creative signature design environment

A professional and a creative email signature is more effective in leaving a lasting impression on the minds of recipients. It should be able to provide a plethora of creative design options to complement your business requirements. One such example is a wide variety of customized templates to fiddle with.

Ensure compliance

There are many legal considerations you must comply with while sending emails. Adding appropriate disclaimers in the signature is the best approach to cleverly protect yourself against any compliance violations. Therefore, an e-mail signature service should have a provision to incorporate appropriate disclaimers in the email signature field as shown.

Stands out as a perfect marketing campaigner

Email signature is the best and most suitable place to run a marketing campaign and make it ultra engaging. It should provide options to add promotional banners in all email signatures and advertise the product updates, blogs, company news, and upcoming events etc

Adding personalized content in your email signature plays a very important role in marketing. This directly reaches your target audience, customers and prospects. A clickable link in the email signature lets your customer to know more about your brand.

Should be cost-effective

When compared to traditional strategies, email signature marketing targets a wider audience effectively. Higher the cost benefit, greater is the Return on Investment (ROI). Therefore, a lower cost gives a positive return. Keep in mind that a right selection of email signature solution drives more number of visitors to your website and social media accounts with a low investment.

Delivers a great customer service

A good and a reliable customer service is the backbone of any business to achieve success in the long run. Customers must be given special attention with a dedicated response. Pertaining to that, we have elaborated few qualities of a great customer service for your e-mail signature in this article. Adopt best practices like valuing customer's time, showing a pleasant attitude, and provide the necessary resources to know about the product.

Ease of usage

Last but not the least, it must be simple to use without any complications. This is one of the overlooked factors at first but a very vital ingredient among the features. Agreed, that a signature service might offer excellent features. But what sense does it make if the configuration itself becomes cumbersome. In this fast paced world, results must be quick to keep one's head above waters. A signature service that's adaptable and easy to handle not only saves precious time but also resources. For example, one does not always have to be tied down to IT admins or experts to manage the signatures.
Sigsync for Office 365 email signature
Sigsync is a Microsoft approved Office 365 Email signature solution having all the essential features required for the creation of Office 365 email signature. It is a secure, centralized web based email signature service that adds consistent, branded email signature for every mail you send.
Its flexible signature generator allows you to select suitable templates or design as per your email signature requirement.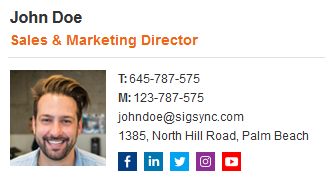 Free Email Signature generator
Free online HTML
Email Signature Generator
that helps to create professional and visually compelling email signatures by adding your logo, brand colors, contact details and etc.,
For more details, Visit: https://www.sigsync.com